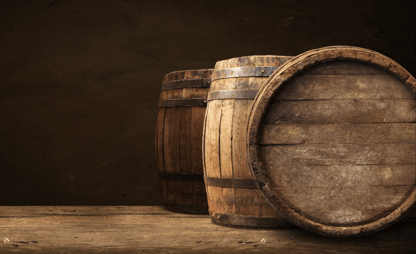 Every once in a long while, things line up perfectly and you get an opportunity you couldn't have planned. That's what happened, in a nutshell, in the story behind Haskell's #1 wine — and we're so excited to share it with you now!
Our #1 wine this year is a 2009 Nicolas Rolin Hospice de Beaune, an incredible wine from the world-renowned Burgundy region of France.
How did this wine become Haskell's #1 this year? Jump back in time with us to the beginning of this saga...
The Story Behind Nicolas Rolin Hospice de Beaune Wine
Nicolas Rolin was a notable French figure who lived in the 14th and 15th centuries as a tax collector, and he even became chancellor to Philip III, Duke of Burgundy. Out of a mass of donations from the wealthy people of that time, Nicolas Rolin had a hospice built for people to recover from plague and poor health (or more likely, die in some semblance of comfort).
Said to be one of the oldest charities in the world, the Hospices de Beaune also had a chapel and nunnery in the large complex of buildings (which now features a museum). Families would donate parcels of their land and the proceeds would fund the maintenance of the facilities and the ongoing work of the Hospice de Beaune.
In the past two hundred years, donations have turned from money to vines since this plot of land in France's Burgundy region is prime wine real estate. As an ongoing legacy of bounty and flourishing, Hospices de Beaune is known around the world for its wine auction, when masses descend upon the location every November after harvest, around the release time of Beaujolais wine, to bid on 50 amazing wines produced on prestigious terroirs.
[If you're curious to learn more about this historic site, read up on the history of Hospices de Beaune.]
How Did Haskell's Get This Great Wine from Nicolas Rolin Hospice de Beaune?
This is where the story gets good.
Haskell's CEO and Chairman Jack Farrell and the Farrell family has worked to ensure Haskell's finds the best wines in the world to share at value prices for our excellent customers. That's why he's attended the wine auctions at Hospice de Beaune for the past 40 years. At each auction, there are huge dinners, auctions in the town square, and a bring-your-own-wine event which means some of the world's best wines are shared by many an eager wine enthusiast, winegrower, and all kinds of people in the wine industry.
At the Hospices de Beaune wine auction in 2009, Jack Farrell tasted through the wines available and had his eye on this wine: the 2009 Nicolas Rolin Hospice de Beaune. He knew how much Haskell's customers love the 2006 Nicolas Rolin, which sold out in short time. The 2009 vintage would be a perfect wine to feature in one of Minnesota's premier wine stores.
Depending on a winemaker's size and production capabilities, about three barrels' worth of wine were available, so Jack purchased two barrels to sell at Haskell's and another man bought the third barrel. While the wine was racked (stored) and later bottled and prepared to ship over the course of about 2 years, the man for unknown reasons no longer wanted the third barrel of wine. After the time elapsed, there was confusion about the third barrel: Whose wine was this?
The day it came time to decide who got the third barrel of wine, the wine gods graced Haskell's.
What Does Haskell's #1 Wine Taste Like?
This fun story of how Haskell's got this wine now leads us here: What does 2009 Nicolas Rolin Hospice de Beaune taste like?
As most red wines from the Burgundy region of France, this wine is 100% Pinot Noir grapes. These grapevines have grown in the exemplary terroir for 35 years. Wines from Hospice de Beaune have a strong set of characteristics, though not as big and brash as other appellations (plots of land) in the Burgundy region.
With a 100% Pinot Noir-grape wine like this, you get the pure flavor of what these classic Old World vines produce. A glass of 2009 Nicolas Rolin Hospice de Beaune offers notes of blackberry, raspberry, and a touch of mushroom-like earthiness along with ripened cherry flavor. It's semi-soft, has little to no residual sugar, and produces some dryness while remaining easy on the palate.
Want to pair it with food? Opt for salmon or roasted chicken for a main course, and be sure to serve some creamy aged cheese that has a little earthiness before or after the meal to complement this fantastic wine.
Usually to get a wine this good from such a world-class location, you'd have to store it yourself (in just the right conditions) for 10 years to enjoy it at such a peak time. One of the best things about this 2009 Nicolas Rolin Hospice de Beaune is that it's a 10-year-old wine that has been stored and cared for in perfect conditions, with utmost attention to detail by renowned wine producers.
In the words of Haskell's President Ted Farrell, "This is a unique opportunity to taste a piece of history."
Don't miss this chance to enjoy our #1 wine, 2009 Nicolas Rolin Hospice de Beaune! Stop by a Haskell's store before these sell out.