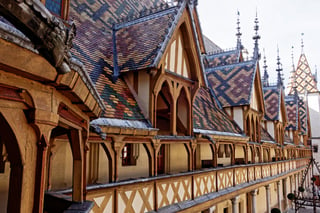 November is a time to give thanks. For wine lovers, it's a time to give thanks for the legendary Hospices de Beaune wine auction that has been taking place in Burgundy, France since 1859. Even Haskell's very own Jack Farrell has been attending this world-renowned annual event for 45 years!
Hospices de Beaune charity wine auction, the largest wine auction in the world, is the highlight of a larger event known as Les Trois Glorieuses jours de Bourgogne, or The Three Glorious Days of Burgundy, which always occurs the third weekend of November. Activities include performances, a folklore parade and a half-marathon, but the wine is the main focus. November 17 through 19, wineries will compete to be the most creative as they organize tastings for wine professionals, connoisseurs and amateurs.
An Auction for Charity
That Sunday, at Chrisitie's auction house, the auction will include more than 49 wines that are donated and typically sold for more than their listed price, which can be seen in the video below. Each year, there is a very special wine called the Pièce des Président or charity barrel. The Hospices support one or two specific charities and offer this barrel of excellent wine, usually a grand cru (a wine of the most superior grade).
The proceeds benefit medical treatments at the Hospices de Beaune and maintenance of its historic buildings. The auction attracts major trading houses and buyers from around the world. Those who cannot attend in person have the opportunity to participate via the internet. After the auction, attendees enjoy a candlelight dinner at Hotel Dieu.
The History of Hospices de Beaune
Hospices de Beaune was created in 1443 by Chancellor Nicolas Rolin as a hospital to care for the poor and destitute. Beaune had just come out of 100 years of war and was experiencing unrest and plague. The original hospital building, the Hôtel-Dieu, is now a museum of local art and furnishings and one of the finest examples of French 15th century architecture. It is one of France's most prestigious historic monuments. Today, modern medical buildings continue to be constructed to further the impact.
How You Can Try Wines From the Auction
Jack has been traveling to France for Hospices de Beaune for decades and is proud to be representing Haskell's alongside Ted Farrell and their families at this year's event. Wishing you could go? You're in luck. Often times Jack will bring wine home from the auction so that our loyal Haskell's customer's can experience Hospices de Beaune, too! In the past, Haskell's has purchased barrels at the auction to be bottled and sold in stores.
Here are a few links of products still available from years past:
In the meantime, Jack and Ted will taste wine, explore French vineyards and bring back to Minnesota their discoveries and opportunities for you to find your own new favorite French wine. After all, someone has to do it!