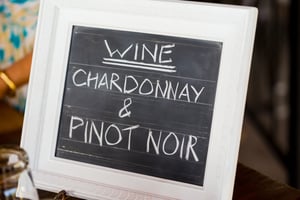 The two most famous grape types from the Burgundy wine region are Pinot Noir and Chardonnay. But sometimes the Burgundy wine and Burgundy region (and, frankly, the color burgundy) get non-wine folks confused.
We're exploring what the Burgundy region is, why Burgundy wines are so respected, and learning a little about how Burgundian wines taste in the process. Read on or scroll down to check out the video below for a brief overview of Burgundy wines.
A Brief Background of the Burgundy Region
Burgundy, France, is a remarkably interesting place due, in part, to the incredible variations in the region's wine. You can find bottles of wine from $10 a bottle all the way to $1,200 or more. Despite the pricing differences, wines from Burgundy are incredibly simple.
Though you may have heard a lot about the Bordeaux region in east-central France, Burgundy is a worthy contender for the best place with extremely high-quality wine, largely due to its terroir.
Terroir is the fancy wine expert word for the intersection of the natural environment's amount of precipitation, the land's elevation and soil quality, and weather patterns that create a distinct set of wine characteristics. In this way, the land and the climate are part of the winemaking process, so the regions of the world make a big difference in how different wines taste.
Apparently, a long time ago, there was a shallow sea in the Burgundy region, which is how it got a rich soil with copious calcium shell deposits. It's not surprising to note that monks are credited with fine-tuning the growth of fussy Pinot Noir grapes 1,000 years ago (they always seem to be making great wine or beer in the Old World, don't they?). Those grapevines have been around for a long time.
Why is Burgundy Wine So Renowned?
Because of the Burgundy region's terroir, it's become one of the most highly regarded producers of excellent wines — maybe even the top spot. For centuries, sommeliers, enthusiasts, and everyday wine-drinkers alike have recognized that Burgundy is the best land in the world to produce Pinot Noir and Chardonnay. In plain language, this area grows superb grapes that make some of the best-tasting wine you can find.
Yes, much of Burgundy wine is quite expensive, but you can still find affordable options that may be a better fit for you. It's not good because it's expensive, it's expensive because it's good.
Pro Tip: From the most prestigious and costly to the most accessible and affordable, the rankings of Burgundy wines are grand cru, premier cru, village wines, and regional wines.
How are Pinot Noir and Chardonnay Different?
All of the white wines in Burgundy are made from about 97% Chardonnay grapes, and all of the red wines are made with 100% Pinot Noir grapes — simple as that. What makes the grapes taste so different from wine to wine are the vast variations in soil and micro climate.
When someone says they want a red Burgundy, they're basically looking for Pinot Noir. If they want a white Burgundy, they're hoping for Chardonnay. (For the overambitious among you, there is a tiny percentage of another white Burgundy varietal called Aligote.)
Pinot Noir grapes are related to other wine varietals you may be familiar with: Pinot Gris/Grigio and Pinot Blanc. You may remember the 2004 comedy/drama "Sideways" that dissed Merlot and praised Pinot Noir. (Side note: there's actually some really great Merlot out there) Pinot Noir is a dry, light- to medium-bodied red wine with tasting notes of cherry, cranberry, and raspberry. Sometimes, you'll find it has a complex earthiness reminiscent of mushroom, tobacco, licorice, or clove.
On the other hand, Chardonnay is crisp, fruity, luscious, and often carries notes of pear and honey — just the kind of territory you want from a white wine. The United States ranks just behind France in the amount of Chardonnay it produces because so many people enjoy a fine Chardonnay from everyday sipping to special occasion wining and dining.
Burgundy's Soft Shoulders
While the shape of the bottle does not affect the taste of the wine, all Burgundy bottles generally have soft shoulders. It is thought that the shape was an easier design for glassmakers back in the day — now the bottle is synonymous with Burgundy wines, making them easy to spot when you're at the store.
So, the next time you buy your favorite bottle of red or white from the Burgundy region, you'll know that complex flavor originated from only one of two grapes. If you're looking for complex wines with a range of flavors from a historic wine region, check out a Burgundy, Pinot Noir or Chardonnay.