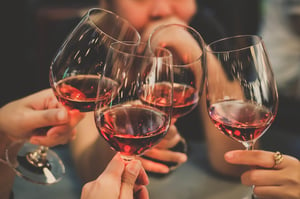 Like a wide-eyed child in a toy store — or deer in the headlights — entering the universe of wine for beginners can feel a bit overwhelming. There are red, white, rose, sparkling, and more than 10,000 types of wine grapes around the world. Where do you even start?
There's no need to be intimidated. That's why we're here. We want to help you feel comfortable and grow confident in the basics of different wine types, ways to enjoy them, and how to keep finding new wines you'll love.
Here's your guide to wine for beginners.
Two Essential Things to Get Started with Wine for Beginners
Like anything big, you have to start small. So, consider the two most important things you'll need to begin this journey of exploring wine: a "passport" and curiosity.
Watch Haskell's Chairman and CEO Jack Farrell share these practical necessities for understanding wine for beginners:
Learn Basic Wine Terms
It's a lot easier to talk about wine when you pick up some of the handy wine vocabulary, such as:
Aroma: The smell of a wine (fruity, spicy, earthy, etc.)
Astringent: Tannins that leave a puckering, dry sensation in the mouth
Body: The density or viscosity of a wine (thin, light, medium, or full)
Fruity: Sweetness, richness, or body coming from ripe grapes that taste like specific fruits
Dig into even more wine tasting terms to be able to talk about what you like in certain wines and what makes them distinct from each other.
The Most Helpful Questions to Ask About Wine
Use the expert knowledge and experienced opinions of a sommelier or wine shop staff to hedge your bets in the search for your next favorite bottle of wine. Ask questions like:
"I like [specific wine varietal]. What is something similar that you recommend?" It can be as simple as, "I love fruity Cabernets. Are there any other fruity wines you suggest?"
"Do you have any wines from [specific region] or a wine similar in style?" This gives the wine expert a sense of your interest and the chance to offer an easy-to-find option or a unique bottle just for you.
"What wines are you excited about on your list at the moment?" If they don't give you an eager response, they might not actually like (or deeply know) wine like a professional should.
"I'm cooking [specific dish] for dinner. Which wine pairs with that?" You want a wine pairing that will dance with the flavors of your food, and a wine expert can easily offer several suggestions.
"What is your favorite bottle of wine under $20? Or between $40 and $60?" What a great way to lean on a wine shop's expertise so you can try different wines you wouldn't otherwise find at a price that works for you.
How to Find and Enjoy Your Favorite Types of Wine
A key fact you'll learn in this wine for beginners journey is that lots of wine varieties are made in lots of places. One practical trick to use when searching for just the right bottle for just the right occasion (even if it's a simple weeknight dinner) is to look closely at the wine label.
Once you have some bottles of wine you want to try, you might want to enjoy them right away with friends, or perhaps, you'll save a couple for that upcoming anniversary or dinner party with friends. Here's a vital bit of advice about storing wine so you get the most out of it when you finally pull the cork:
Now it's finally time to bring out that bottle and serve it to your special someone or valued guests.
Ever wonder what's the deal with all the different shapes of wine glasses? Do they really make a difference? Short answer: Yes. Be extra prepared and have the specific wine glasses that offer the best characteristics of the wine you're drinking.
So, Where Do You Begin?
Haskell's has nearly 2,000 different wines available for sale online. Jack Farrell has traveled the world to bring you the very best wines for 45 years. He's put together a list of his favorites in his annual list of the Haskell's Hundred, which is a perfect way to get started in wine for beginners.
Jack Farrell's top five wine recommendations
Once you've sampled these five wines, explore the rest of Haskell's Hundred list for more wine recommendations. You'll never run out of adventure now that you have this useful wine for beginners guide.