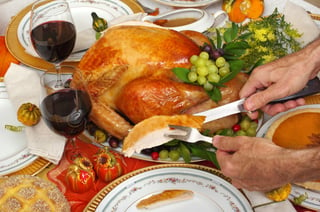 The holiday season is in full-swing! Whether the dinner table will be set with traditional favorites or a few new dishes, we have just the right wine choices to help bring your festive meals to life.
Like holiday gifts, the options are bountiful. Go with the crowd pleasers, and consider having at least one red and one white available so everyone can enjoy a glass of wine with their holiday dinner. For instance, if you are having turkey, consider choosing a Riesling and Pinot Noir, or any other combination.
If you're unsure of which ones to pick up, you're in luck. Jack just released his 2017 favorite wines in this year's Haskell's Hundred list. You can't go wrong with any of these, and they're all retailed under $100!
Perfect Wine Pairings with Turkey
While the wines in this year's Haskell's Hundred are highly recommended, the list doesn't indicate which ones make for the best pairings, so we wanted to give some further guidance in the spiriting of holiday giving. Turkey is an easy dish to pair with wine because it doesn't have strong flavors, so almost anything will do. Here are some of our favorites:
Vouvray
Domaine Vaufuget Vouvray

- Enjoy this off-dry white table wine from the Loire Valley region of France with dinner or spicy appetizers. (#33)
Riesling
Sittmann Late Harvest Spatlese Riesling

- A late harvest wine seems appropriate for Thanksgiving, and thankfully, goes well with turkey. It has aromas of green apples, pears and apricots. The sweet flavors of peaches and apples are balanced by a crisp acidity, so it's not too sweet. Try it chilled. (#84)
Rosé
Limerick Lane Rose

- Made from estate-grown Grenache grapes in the Russian Valley of California, this rose continues to be a knock-out. If you are a guest and stressing about whether to bring a bottle of red or white, go with this. (#96)
Beaujolais Nouveau
Mommessin Beaujolais Nouveau 2017

- The new wines of the season are here and we encourage you to try them out. This wine, made from Gamay grapes and released once a year, will go with everything on your plate. We promise you'll be happy, and more importantly, everyone will else

will

be, too.
Pinot Noir
Wines to Compliment Your Ham Dinner
Ham can be salty and even a little overpowering, but these wines will pair nicely.
Rosé
Vouvray
Domaine Vaufiget Vouvray

- A treat from the Loire Valley, Vouvray tends to lean sweeter but not too sweet. It's just sweet enough to pair delightfully with ham, spicy foods, desserts, goat cheese, and well, many foods.
Chardonnay
Newton Unfiltered Chardonnay 2014

- Jack says, "This is one of the best American Chardonnays that I have tasted in a long time. This wine rivals some of Burgundy's top producers." For a small dinner affair, here's a Chardonnay you might want to consider. It's intense, focused and complex. Pink grapefruit, fresh fig, and pear aromas are enhanced by elements of spice and vanilla, contributing additional depth and intrigue. (#2)
Pinot Noir
Zinfandel
Windstorm Zinfandel

-

It has a j

ammy aroma of blueberries, raspberries, Asian

spices, and licorice. (#20)
Cotes du Rhone
Don't Forget Your Wine Pairing for Dessert
Sparkling Rose
Moscato
Chateau Grand Jauga

- Lovely, lush, balanced. Perfect to sip after dinner near a fire. Now on sale.
As for Jack's #1 wine selection on Haskell's Hundred List? Well, let's just say you could enjoy this one for Thanksgiving, Hannukah, Christmas Eve, or just a Friday night with your loved one.
Introducing: Savigny Les Beaune Premier Cru Hospices de Beaune Cuvée Fouquerand 2014 - Jack says this Burgundy pairs with roasted chicken, game, or wild mushroom risotto.
Cheers!