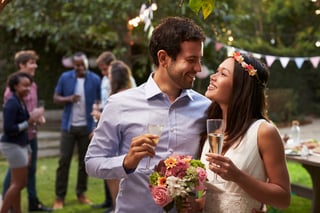 Have you been to a backyard or farm wedding in Minnesota? What a wonder! We love to be outdoors, so it's easy to understand why more Minnesotans are opting to hold receptions on their own. One question that can be confusing is what to do for cocktails. It comes down to math. We may not be wizards, but we do have some experience in this area, so we've put together a bit of a wedding drink calculator to help you figure out what you need, and how much.
Are you ready to plan your perfect summer wedding?
When you need answers, know what questions to ask.
How many guests?
Are they heavy or light drinkers?
Do you want a full bar, or just wine and beer?
Do you want bartenders on site, or will you have a self-serve station?
Will there be a signature cocktail?
Will you have a champagne toast?
What's your budget?
Don't forget the ice.
Consider a modified full bar:
Mixers: Juice (usually orange and cranberry), soda (such as ginger ale and a cola), tonic water, and club soda
Garnishes:

Lemons and limes
Beer: Pick at least two options. Are their regional options? For instance, if a Minnesotan and a Wisconsinite are marrying, pick a local MN craft beer and a Wisconsin favorite.
Wine: Pick a favorite red and white wine.
Champagne, or sparkling: If you decide to provide champagne, make sure there's enough bubbly for everyone to have a toast, plus a little extra.
Rules of thumb:
Figuring out how much wine, spirits, beer and soft drinks you need is not an exact science, but here's what we know when it comes to a wedding party. Assume each guest will consume about two drinks during the cocktail hour and one drink per hour for every remaining hour for the duration of the party. And, don't forget those who don't drink. Have plenty of non-alcoholic options available as well.

Do your math!
A handy calculator tool, like this one from Evite, makes the math easy.
But here's a simple example: If you are inviting 75 adults (over age 21), and expect them to stay a total of four hours, you'll want to have:
75 x 2 (drinks for the first hour) = 150
75 x 3 (drinks for the duration) = 225
375 total drinks
Overwhelmed? No worries. Hire a professional bartender from Haskell's! Our bartenders-for-hire can work with you on your budget and selections, and will ensure you have all the booze, all the ice, all the glasses, and that your guests stay hydrated throughout the night. You'll save money, time, and a few worries by trusting our experienced professionals to run the bar.
And, of course, Haskell's delivers. Whether you need a case of beer or ten, we've got your beer, wine, and spirit connection.