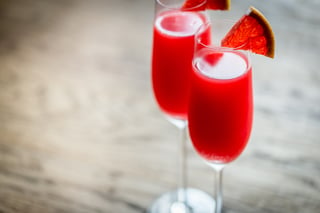 Mimosa: mi·mo·sa (noun): mimosa; plural noun: mimosas

an Australian acacia tree with delicate fernlike leaves and yellow flowers that are used by florists.
another name for the silk tree.
a plant of a genus that includes the sensitive plant.
a cocktail composed of equal parts champagne and chilled citrus fruit juice, usually orange juice unless otherwise specified.
We learn something new every day. We're going with option four for the sake of relevance. Mimosas have long been a brunch favorite: a little bubbly, a little fresh orange juice, and some time with friends. What's not to love? We also love to stir things up a bit with trying new recipes. If you love a traditional Mimosa, we think you'll love these too.
You don't have to use a true Champagne. Any sparkling wine you enjoy is perfect. Consider a Cava or a Prosecco, which are both affordable and enjoyable.
Here are Four Mimosa Recipes to Try for Your Next Brunch.
Ingredients:
3/4 cup orange juice
2 ounces marshmallow vodka
1 bottle of Champagne (you will have some left over)
Whipped cream + crystal sprinkles for garnish
Combine orange juice and vodka into a measuring cup. Pour about 1/4 of a cup into each glass, then fill the remaining space with champagne. Top with a squirt of whipped cream and crystal sprinkles. Serves 4.
Ingredients:
1 bottle Prosecco
1 1/2 cups fresh blood orange juice
1 tablespoon superfine granulated sugar
2 tablespoons orange liqueur (recommended: Grand Marnier)

Combine fresh blood orange juice with sugar and orange liqueur in a large measuring cup and stir to combine. Cover and refrigerate until chilled. To serve, pour into the bottom of Champagne glasses and slowly top off with ice-cold Prosecco.
Serves 4-6.
Ingredients:
4 ounces Champagne or sparkling wine (chilled)
2 ounces orange juice
2 ounces strawberries (sliced and partially thawed
1/2 ounce strawberry syrup
Blend until smooth and pour into a cocktail glass. Add the Champagne and garnish with a whole strawberry and an orange slice. Note: you can also use frozen strawberries in syrup, partially thawed, if you don't have strawberry syrup.
BONUS: The sister to Mimosa must be a Bellini. Try this for a sparkling peachy brunch favorite.
Bellini
Ingredients:
3 ounces of Prosecco sparkling wine
2 ounces fresh peach puree or juice
Mix sparkling wine and peach puree and serve in a champagne flute.
Founded in 1934, Haskell's has championed fine wines for over 80 years. We have 13 wine stores in Minnesota, two delis and one restaurant. As one of the top wine shops in North America, Haskell's is known for legendary service and one of the finest collections of wine, beer and spirits. Led by Chairman and CEO Jack Farrell, and the Farrell family, Haskell's continues to be at the forefront of the wine scene throughout the world. Haskell's also can ship wine, beer & spirits all throughout the world, the U.S. and we deliver locally.