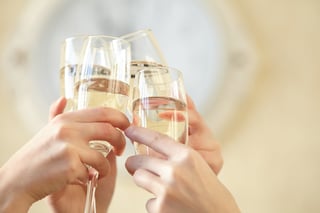 "In a perfect world, everyone would have a glass of Champagne every evening" – Willie Gluckstern
Champagne is a sparkling wine made in the region of Champagne, France from the grapes of Pinot Noir, Pinot Meunier and Chardonnay, and is one of the world's most beloved wines. If celebrating is on your "to do" list, then be sure you have the right bubbles for the occasion. What are the best Champagne brands?
Remember, all Champagne is sparkling wine. However, not all sparkling wine is Champagne.
Four true Champagne's worth celebrating
Four sparkling wines worth tasting
These sparkling wines are great options that will also be easier on your wallet, and we think are great bubbles to fill any flute. Cheers!
Roederer Estate Brut
— Crisp, elegant, California sparkling wine from the producers of Louis Roederer of Champagne. Highly recommended.
Schramsberg 'Mirabelle' Brut
— A multi-vintage brut sparkling from California. Enjoy this young, bright bubbly crisp acidity that pairs well with food: oysters on the half shell, sushi, baked halibut, cheeses and cream-based pasta dishes.
Mumm Napa Prestige Brut
— From Napa Valley comes this medium-bodied sparkling wine displays an excellent mousse and a rich, lingering finish.
Schloss Nicholas
— Try this sparkling, non-vintage wine made in Germany. Semi-sweet with flavors of pear, white peach and honeydew, perfect for a celebratory toast, and at a terrific price point. *93 Points - Wine Advisory Board
If these don't inspire you to pop the cork, perhaps you'd enjoy some further inspiration:
Want to learn more about the fascinating and storied history of Champagne? Here are a few books to check out.