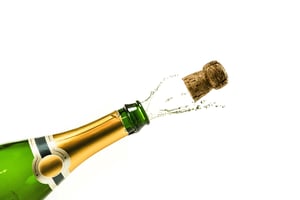 Can you believe it's almost New Year's Eve? Before your mind spins out of control about your plans and hopes for 2019, consider this brainteaser: why will millions of people around the world hold a glass of Champagne to ring in the New Year when the clock strikes midnight on January 1?
How did the tradition start?
Why is Champagne so closely associated with celebration?
What's the difference between Champagne and sparkling wine?
December 31st is National Champagne Day, so what better time to learn the ins and outs of this noteworthy beverage of glistening occasions? Let's dig into these questions so you're ready for the New Year's Eve party and a full year of celebration-worthy events.
How Did the Tradition Start?
The origins of lifting a glass of Champagne in a toast to good health and a good New Year dates back to 5th century France when King Clovis' first Holy Communion as king included a local wine from the Champagne region. Champagne during this century was not bubbly. In fact, the bubbles came about in the mid-1600s.
Why is Champagne Associated with Celebration?
In the mid-1800s, Champagne became popular among French royals. And those that survived the French Revolution celebrated their victory with Champagne, too. As the cost of Champagne decreased, more average members of society could afford it, but it still wasn't affordable enough to enjoy every day. Instead, people would purchase a bottle of bubbly to celebrate a special occasion.
Over time, the bubbly beverage became more and more affordable, but it's still widely used to celebrate.
What's the Difference Between Champagne and Sparkling Wine?
This question has plagued many a party planner: Is there a difference between Champagne and sparkling wine? And will the guests at my New Year's Eve party know?
One central reason for the distinction is that French law mandates true Champagne can only be made in the Champagne region of France, as determined by Appellation d'origins Controlée in 1936. The specific grapes used to create these wines of dry, bright, minerally flavors must adhere to a limited selection. The grapes most commonly used in Champagne are:
Chardonnay
Pinot Meunier
Pinot Noir
Sometimes producers will also use:
Pinot Blanc
Pinot Gris
Petit Meslier
Think of Champagne as one specific, high-quality type of sparkling wine. But remember — sparkling wine is not always Champagne. You may run across similar flavor profiles and grapes in sparkling wines that aren't from the Champagne region but are technically not Champagne. Don't be ashamed to admit you may love other sparkling wines more, such as bubbly versions like Brut and Rosé. Check out other sparkling wines as well:
Cava — from Spain
Prosecco — from Italy
Sekt — from Germany
American sparkling wines
So, as this New Year's Eve holiday approaches, grab yourself a bottle of Champagne and toast to a wonderful New Year. Cheers!