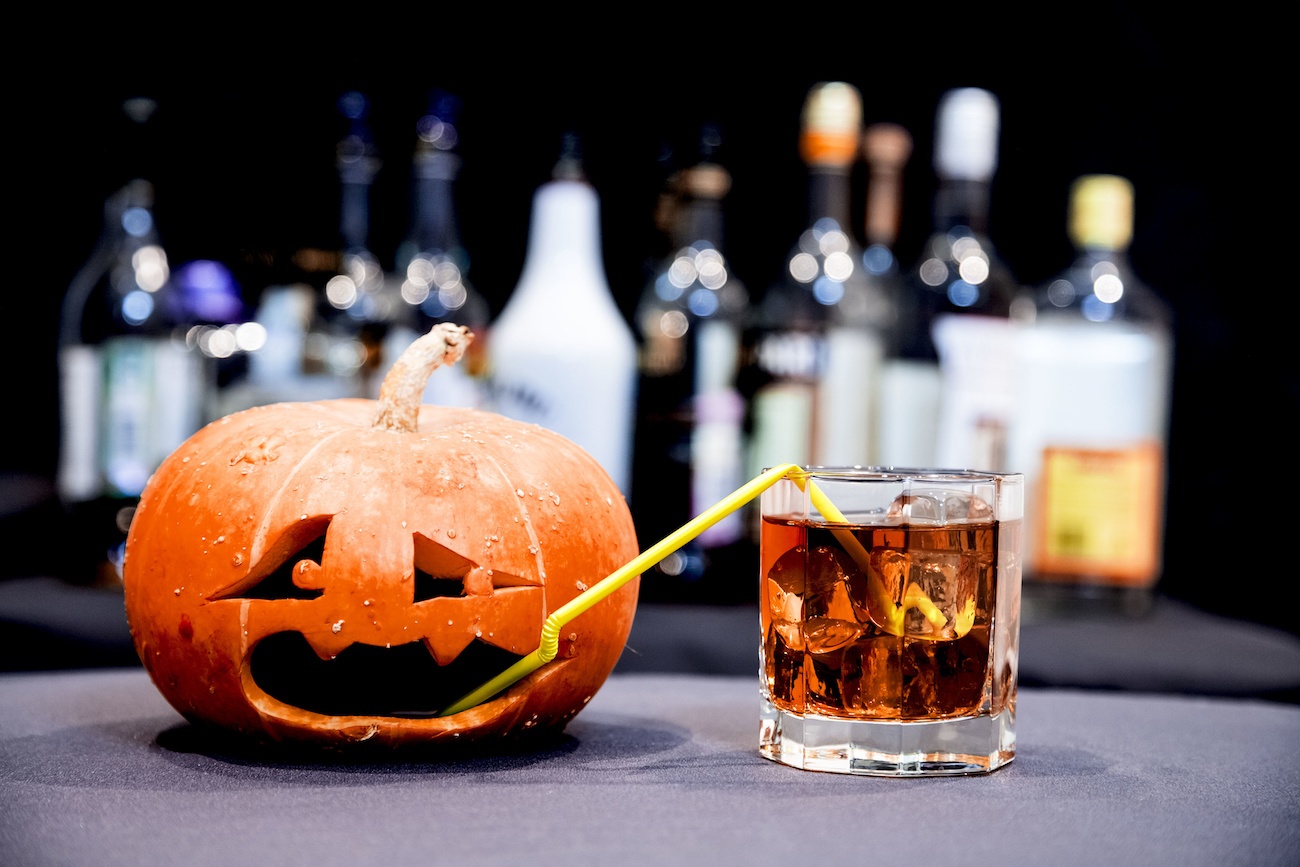 It might be ironic that Halloween will be one of the least scary things about 2020. But in a time when it's hard to get together, bonding over drinks with friends is just what so many of us need to feel a bit more normal. Fortunately, we've got a whole list of Halloween cocktails to try at home after all the tricks have been treated and all the Monsters have been Mashed!
(Enjoy these responsibly! To keep it all in the household, send your favorite recipe to your friends and gather 'round the webcam for a remote Halloween party.)
Serve while staggering around menacingly. Laugh with an undead rasp and threaten to eat your guests' brains for added effect.
Ingredients
10 ounces

Le Beau vodka

5 ounces triple sec
2 ounces bitters
1 cup fresh squeezed blood orange juice
2 cups black cherry soda
Grenadine, for rim
Instructions
In a large punch bowl filled with ice, pour vodka, triple sec, bitters, blood orange juice, and black cherry soda. Rim each glass with grenadine before filling with punch mixture, and serve. Serves 8.
No guarantees about "stormy," but with sunset around 6 p.m. here in Minneapolis, you'll probably be brewing this punch while it's at least dark.
One 20-ounce can lychees in heavy syrup
1/4 cup thinly sliced peeled fresh ginger
16 brandied cherries
1/4 cup superfine sugar
1/2 cup fresh lime juice
12 ounces dark rum
Three 12-ounce bottles ginger beer
Ice cubes
Instructions
In a small saucepan, bring the lychee syrup and ginger to a boil. Remove from the heat, cover, and let steep for 30 minutes. Meanwhile, stuff 16 lychees with brandied cherries. Set each lychee in the cup of a mini-muffin pan or in an ice cube tray. Strain the lychee-ginger syrup and pour it over the lychees. Freeze until firm, at least 4 hours. Meanwhile, in a pitcher, stir the sugar into the lime juice until dissolved. Add the rum and refrigerate until chilled, about 1 hour. Unmold the lychee ice cubes into a small punch bowl. Pour in the lime-rum mixture. Add the ginger beer, stir gently, and serve in ice-filled glasses.
Peek-a-BOO!
Ingredients
For the punch:
For the spooky ice cubes:
Food coloring
Water
Novelty ice cube trays
For the devil's eyeballs:
20 maraschino cherries
20 chocolate chips (white or dark chocolate)
20 lychee nut fruits (canned and pitted)
Instructions
For the Punch: Combine all ingredients in a large glass punch bowl and mix well.
For the Ice Cubes: Color water with desired food colorings and pour into ice cube trays. Freeze until firm.
For the Devil Eyeballs: Remove the stems from the cherries. Insert a chocolate chip, point side in, into each cherry to make "pupil" of the eye. Stuff cherry into pitted lychee nut fruit. Ladle some of the punch into each glass. Garnish with ice cubes or devil eyeballs.
PRO TIP: If you really want to add a little hosting horror, try making wormy ice cubes for your killer cocktails. Don't worry, no real worms are needed.
A summertime classic with a crimson twist.
Ingredients
2 oz.

J. Carver Gin

2 oz. Blood orange juice
3/4 oz. Mint simple syrup
Instructions
Mix all ingredients and serve over ice in a collins glass. Garnish with an orange wedge and a cherry.
Is it a coincidence that Minnesota apples are perfectly in season around the same time we crave them most? Probably not. Take advantage with this juicy cocktail.
Ingredients
2 oz. Apple cider
Ginger beer
Cinnamon stick & apple slices
Splash of lime juice
Ice
Instructions
Add a splash of lime juice to mule mug. Add 2 oz. of Spiked Apple Bourbon, ice and 2 oz. of apple cider. Fill to the top with ginger beer, garnish with a cinnamon stick and apple slices.
Unfortunately, the mirror thing doesn't work with this one. You've got to make it yourself. Make this classic even creepier with candy eyeballs, bone stirring sticks, and more!
Ingredients (by the pitcher):
6 limes, juiced
1 tablespoon celery seeds
3 tablespoons grated fresh or prepared horseradish
2 quarts tomato juice, chilled
2 tablespoons hot sauce
1 tablespoon Worcestershire sauce
Kosher salt and freshly ground black pepper
1 1/2 cups

Le Beau vodka

, chilled in the freezer
Celery stalk, for serving
Cucumber spears, for serving
Handful fresh cilantro, for garnish
Instructions
Combine the lime juice, celery seed, and horseradish in a pitcher. Muddle the mixture with the end of a wooden spoon to blend and break up the celery seeds. Pour in the tomato juice, hot sauce, and Worcestershire sauce; season with salt and pepper. Stir everything together to combine. Divide the vodka among six tall, chilled glasses filled with ice. Fill the glasses with the Bloody Mary mix, stick in the celery and cucumber and garnish with the cilantro. Give the cocktail a good stir and serve.
Does fire work on zombies? Depends on which movie you're watching. It works on this one – just be careful with your pour (and your lighter)!
Ingredients
1/2 ounce white rum
1 1/2 ounces golden rum
1 ounce dark rum
1/2 ounce 151 rum
1 ounce lime juice
1 teaspoon pineapple juice
1 teaspoon papaya juice
1 teaspoon superfine sugar
Instructions
Mix all ingredients except 151 rum together. Shake well.
Pour mixture over cracked ice.
If using, float 151 rum on top of mixture.

To float rum, slowly pour it over the backside of a spoon and into the glass.

For added flair, carefully light layered 151 rum with a candle lighter.
Garnish with mint, orange slice, or other fruit.
Craveably cursed and evilly easy to make!
Ingredients
2 ounces tequila
1 ounces orange liqueur
1 ounces

limoncello

1 ounces sour mix
Dash of orange juice
Instructions
Pour the ingredients in a cocktail shaker with ice. Shake well. Strain into a sour or highball glass.
Don't let the candy fool you – this one's not for kids.
Ingredients
3 bottles of

Vizon tequila

1 bottle of Cointreau or triple sec
1 gallon of sweet and sour mix
2 pounds of gummy worms (as many colors as possible!)
Big bag of ice
Instructions

Get a big bowl, preferably a clear glass bowl or punch set. Pour all ingredients in the bowl. Add a bag of ice. Throw in the worms. Stir very well with a ladle. Pour a cup and enjoy. Sweeten it up with some simple syrup, stir well and taste. Want it more sour? Add some fresh lime juice.
Garlic-free! If only vampires knew how tasty this was, maybe they wouldn't want so much blood all the time.
Ingredients
¼ cup sugar
½ cup

Campari

½ cup gin
½ cup fresh-squeezed orange juice
3 cups club soda, chilled
½ cup pomegranate seeds
1 orange, thinly sliced
Instructions
Combine the sugar and ¼ cup water in a small saucepan. Cook over medium heat, stirring often, until the sugar has completely dissolved, 1 to 2 minutes. Let it cool. In a large pitcher or punch bowl, combine the Campari, gin, orange juice, and sugar syrup; chill for up to 12 hours. Just before serving, add the club soda, pomegranate seeds, and orange. Serve over ice.
Drink responsibly or you might wake up wishing you could "Headless Horseman" yourself in the morning.
Ingredients
1 tablespoon sugar
¼ teaspoon pumpkin pie spice
3 tablespoons vodka
2 tablespoons half-and-half
1 tablespoon canned pure pumpkin puree
1 tablespoon maple syrup
¼ teaspoon pure vanilla extract
Instructions
Combine the sugar and ⅛ teaspoon of the pumpkin pie spice on a small plate. Dip the rim of a chilled martini glass in water, then dip in the sugar to coat. In a martini shaker filled with ice, combine the vodka, half-and-half, pumpkin puree, maple syrup, vanilla extract, and the remaining ⅛ teaspoon of the pumpkin pie spice. Shake vigorously, then strain into the prepared glass.
Grab all your seasonal favorites and ingredients in-store or online at Haskell's!