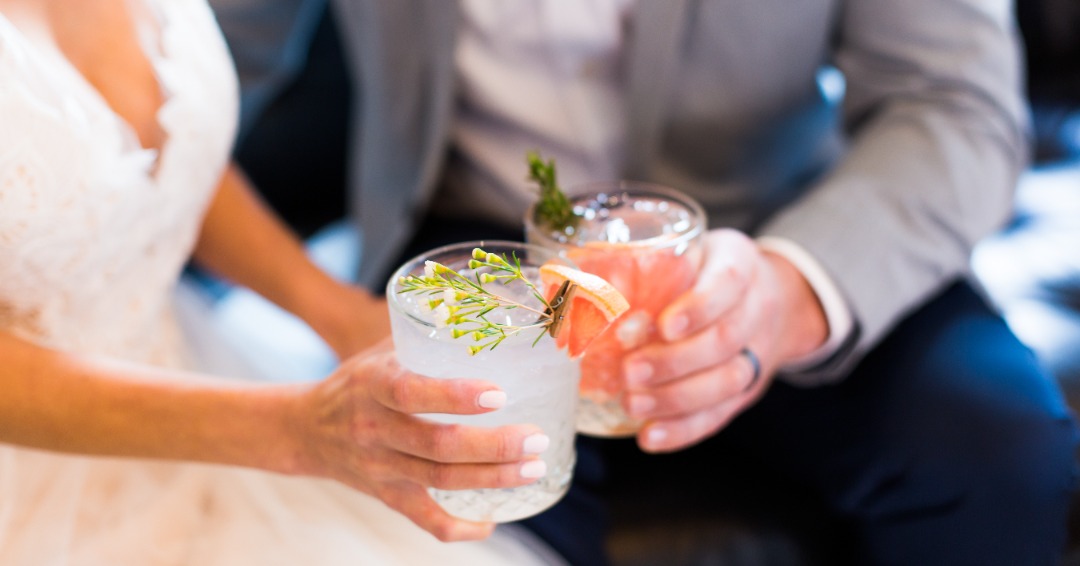 Weddings: an all-eyes-on-you, love-filled event where friends and family gather to celebrate you and your loved ones launch into a new chapter of life. Between gatherings, dress fittings, color/theme selection, cake tasting and sending invitations, you may, perhaps, find yourself making a cocktail or sipping some wine to help with all of this planning.
When you get to reception planning, you may find yourself estimating and planning your bar service and bartending needs. Our Party Planning Drink Calculator to help determine how much alcohol you need for your big day, and to keep your mental math to a minimum. To add a memorable touch and flavor, many couples create their own signature cocktail for their wedding drink menu.
In case it helps take one item off of your planning plate, we have rounded up 6 wedding drinks and 8 name ideas that are sure to please your guests. Be it personalized drinks or big-batch cocktails, we have ideas for any kind of wedding.
Looking to keep your liquor spending within budget? We made an estimate guide to keep you on track. As an added bonus, some of the batched drinks can be made pre-wedding, helping keep costs low and save time. Find your favorites below and feel free to refine the recipes. It's your day, after all!
How Do You Pick a Signature Wedding Cocktail?
Before turning your kitchen into a full-fledged test bar, do some thinking about what kind of cocktail best represents you and your betrothed. Think about where you met, your favorite drink, or maybe a silly memory the two of you share. These are great foundations for coming up with a name for your signature cocktail. Perhaps you met at a college bar. Try to recreate your favorite club drink and share the memory with your wedding guests! With a little creativity, you can come up with a knockout drink.
Signature Cocktail Name Ideas
Once you have identified the inspiration for your drink, it's time to bring it to life with a personalized name. We have come up with a few to get the ideation process started. Feel free to mix and match to find what works best for your wedding.
Apple-y Ever After Martini

Mint-to-Be Mojito

Main-Squeeze Margarita

Love Potion

Altar-ed State

Sweetheart

Love Island Iced Tea

[Your name] + [Spouse name] Marital Manhattan
Single-Serve Recipes
If you are having a more intimate wedding and would like your guests to be individually served by a professional bartender, we think these three drinks will be perfect for you. Not only are they crowd-pleasers, but their boozy nature will surely bring people out to the dance floor!
Long Island Iced Tea
Try our Long Island Iced Tea recipe, and have some fun with the name to personalize it. For one drink, you will need:
2 cups ice cubes
1 part vodka
1 part gin
1 part white rum
1 part white tequila
1/2 part triple sec
1/2 part sour mix
1 splash cola
lemon wedges for garnish
How to make a Long Island Iced Tea:
Fill a cocktail shaker with ice.
Pour vodka, rum, gin, tequila, triple sec, and sour mix over ice; cover and shake.
Pour cocktail into a glass; top with splash of cola for color.
Garnish with a lemon slice.
Margarita
Looking for something that will shake up the crowd? Watch our video on how to make a "Main-Squeeze" Margarita. You will need:
2 to 2.5 oz. reposado tequila
1 oz. orange liqueur
1 to 1.5 oz. lime juice
½ orange
How to make a classic margarita:
Pour kosher salt on a plate.
Rim cocktail glass with lime juice and dip rim into salt. Flip the glass back over, set aside.
Fill cocktail shaker with ice, tequila, orange liqueur, lime, and juice from orange. Shake thoroughly.
Pour mixture into the salt-rimmed glass and add lime wedge or wheel to garnish.
Hot Buttered Rum
Perhaps you are getting married during the colder months of the year and are looking for classic winter cocktails to keep your guests warm and filled with cheer. Try our Hot Buttered Rum cocktail. To make this, you will need:
2/3 cup dark brown sugar
1/2 cup (1 stick) unsalted butter at room temperature
1/4 cup honey
1/2 tsp. ground cinnamon
1/4 tsp. ground nutmeg
1/8 tsp. ground cloves
pinch salt
3/4 cup

spiced rum

2 cups boiling water
4 cinnamon sticks
How to make a Hot Buttered Rum cocktail:
Use an electric mixer to beat the brown sugar, butter, honey, cinnamon, nutmeg, cloves, and salt in a medium bowl until smooth and blended.
Pour mixture into a large measuring cup (at least 4 cups).
Add rum and 2 cups of boiling water, then stir until the butter mixture is dissolved.
Equally pour the mixture among 4 coffee mugs.
Garnish with cinnamon sticks.
Batched Recipes
Perhaps you are planning on your wedding being the party of the century and will be inviting hundreds of people to help you celebrate. Having pre-batched drinks can help keep you within your estimated budget as well as keep the drink lines moving. While cost-effective and efficient, these recipes are great to utilize even before your wedding. Try them out at your engagement party, bridal shower, bachelor/ bachelorette party, or alone with your fiancé as a wedding planning incentive.
Bourbon Rosemary Punch
Up first is a Bourbon Rosemary Punch. This recipe yields 16 glasses, so multiply it as many times as needed to serve your guests. To create the punch, you will need:
1 bottle rosemary-infused Aperol (750 mL)*
12 ounces bourbon
6 ounces

honey syrup

6 ounces grapefruit juice, freshly squeezed
1 bottle dry sparkling wine (750 mL), to top
1 bottle soda water (750 mL), to top
garnish: 16 grapefruit wheels
garnish: 16 rosemary sprigs
How to make Bourbon Rosemary Punch:
Combine the rosemary-infused Aperol, bourbon, honey syrup, and grapefruit juice in a punch bowl and add large ice cubes.
For each serving, ladle 3 ounces of punch into a punch glass filled with ice cubes.
Top with a splash of sparkling wine and a splash of soda water.
Garnish with a grapefruit wheel and a rosemary sprig.
*Rosemary-infused Aperol: Place 4 sprigs of rosemary in a 750 mL bottle of Aperol and let sit for 6 hours at room temperature, then strain out herbs.
The Greyhound
Next to bat is an excellent sipper if you are planning on having an outdoor wedding. Mix this up and throw it into a glass pitcher for a romantic, summer picnic feel. For The Greyhound, you will need:
14 oz. vodka of your choosing (we like to use Kettle One)
18 oz. freshly squeezed grapefruit juice
Rosemary for garnish
How to make the Greyhound:
Combine in a large pitcher
Stir
Serve
Warm Cider and Rum Punch
Our final batched suggestion is perfect if your day falls during a colder season and you are looking for something guests can walk up to and serve themselves. The Warm Cider and Rum Punch cocktail will definitely leave your guests raving about your wedding. To make it, you will need:
8 cups apple cider
1 apple, thinly sliced crosswise
1 orange, thinly sliced crosswise
2 cinnamon sticks
1-inch piece fresh ginger, peeled and thinly sliced
2 cups dark rum
How to make Warm Cider and Rum Punch:
In a large pot, combine apple cider, apple slices, orange slices, cinnamon sticks, and ginger. Bring to a boil over high; reduce to a simmer and cook for 5 minutes. (Keep warm over low, up to 2 hours.) Remove from heat and stir in rum. Transfer to a punch bowl; serve warm.