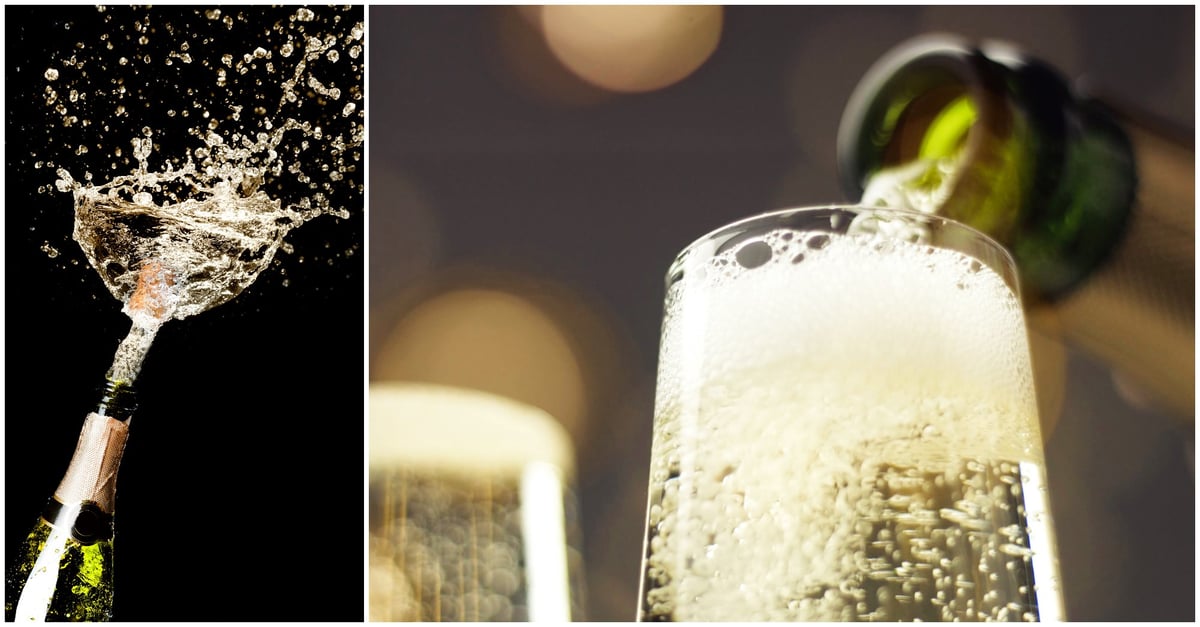 According to historians, Winston Churchill had a half-bottle of Pol Roger Champagne served on his breakfast tray every morning. When asked, "Why, Winston, do you drink champagne?" he is reported to have said, "In defeat, I need it. In victory, I deserve it."
Regardless of the sort of year you've had (we all "need it" or "deserve it" after the humdinger that was 2020), it's tradition to toast the new year with a bottle of something sparkling. Although you might be considering a German Sekt or Spanish Cava, chances are you're likely deciding between the two grand dames of bubbly libations: Champagne or Prosecco. Here's what to ask to help you choose.
#1. "Oui" or "Sì"?
Champagne is French and prosecco is Italian. They're both appropriate for celebratory occasions like New Year's Eve, but knowing their origins and history can help you narrow down your search (and get a little bit of fun background while you're at it).
A champagne isn't a capital-C Champagne unless it originates from that particular region of France, located ninety miles northeast of Paris. Many people credit Dom Perignon with the invention of sparkling wine in 1693, but it is more accurate to say he popularized it.
Like many of the world's greatest inventions, Champagne was a bit of a happy accident. According to regional lore, hundreds of years earlier, bottles of wine began spontaneously exploding due to a secondary fermentation process. Shocked winemakers called it "Devil's Wine," as they were unsure what caused the surprising incident! Since then, the process has been demystified and perfected.
Comparatively, prosecco was popularized in the 1860s and originated in the Veneto region of northern Italy, and named for the village of Prosecco. Regional production today spans nine Italian provinces. Although seemingly younger, some historical accounts trace mentions of prosecco back to ancient Rome, saying it was a favorite drink of the famous Roman writer, Pliny the Elder.
#2. What's your budget?
Usually, champagne is a little more luxurious, so it can run a little pricier (usually $30 to $150 or more). Prosecco is a delicious option for the budget-conscious (between $10 and $40) – but higher-end proseccos can get expensive, as well. You can usually find a bottle that works for your budget.
There are only about a hundred wine producers in Champagne, and they produce around 350 million bottles of Champagne a year to meet the world's demand. This ratio has given rise to world-famous Champagne houses like Moet & Chandon, Veuve Clicquot, Dom Perignon, Louis Roederer, and of course, Pol Roger.
In addition to inventory constraints, it takes two years to undergo the specialized fermentation process in individual bottles. When you add in the prestigious effect of popping champagne to celebrate something big, it all adds up to a higher price tag. Fortunately, other sparkling wines originate from other areas of France, which are less expensive than real Champagne.
If you're buying on a budget, try these sparkling wines:
If you want to try a true Champagne on a budget, try one of these:
Proseccos are usually less expensive than champagnes because proseccos can be produced in larger quantities. Italian winemakers developed the Charmat method, a fermentation process that can last as long as nine months. Proseccos can cost between $10 to $40 – but most Prosecco should be under $15 per bottle. They are meant to open often to celebrate with and to enjoy a toast to life. They are also fun to use as a welcoming wine or starter wine at the beginning of the night.
Look for these next time you're shopping for prosecco:
#3. What tastes do you like?
Each sparkling wine has its own flavor profile. In general, champagne is full-bodied, nutty, and dry; prosecco is bright and fruity. Their unique flavors can be determined by the regions they come from and their fermentation processes.
Champagne derives its distinctive flavor from the chalk in the subsoil of the Champagne region, giving it notes of minerality or nuttiness. The grapes used are a mix of chardonnay, pinot meunier, and pinot noir. Three champagne wine levels range from dry to sweet, although most tend to be dry. "Brut" and "extra brut" are the driest champagnes, whereas "secs" will be on the sweeter side. Declared vintages of champagne can be purchased to commemorate special occasions.
For example, a vintage like Veuve Clicquot Grand Dame or Pol Roger Winston Churchill will taste the same today as it did at your wedding seven years ago. To appreciate its full-bodied nature, champagne should be enjoyed at room temperature, not chilled. Sweeter champagnes pair nicely with fruity desserts or cheese plates, whereas drier champagnes work well with roast meats, creamy dishes, or other rich foods.
Prosecco is known for its light and fruity aroma, with notes such as honeysuckle, peach, or melon. These aromas come from the high concentration of glera grapes, a thin-skinned white or greenish grape that makes up 85% of prosecco's composition, and is finished with pinot noir or chardonnay grapes.
Like champagnes, proseccos come in a spectrum from dry to sweet. Prosecco is recommended to be served cold, whether on its own or mixed with juices for cocktails like bellinis or mimosas. Sweet proseccos pair well with saltier foods, whereas dry proseccos should be served with sweeter entrees, such as Indian curries or Thai noodles.
This holiday season, let Haskell's be your headquarters for champagne, prosecco, and many other sparkling wines that will tickle your fancy and your taste buds. We carry over 200 different kinds of sparkling wine, and the right one is just waiting to be a part of your holiday celebration!