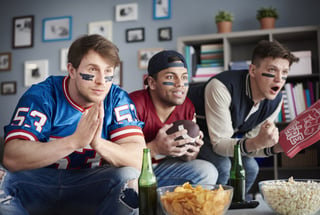 Are you planning a party for the "big game" on February 5th? You know, the one with the Atlanta Falcons and New England Patriots? Trying to figure out how much beer, wine, and spirits to buy for your guests doesn't have to be a wild guess. A little math can go a long way — just use our party drink calculator to estimate your drink-to-guest ratio.
Being a great party host starts with planning.
Who are you inviting? What are you serving for food and drinks? (You need them both). Is it a beer and wine only party? Will there be liquor? What's the menu? And, what's your budget? Overwhelmed? No worries.
Let's plan a party for 20 of your closest friends that are average drinkers and eaters for a 4-hour party.

Consider that most people will consume 1.5 drinks the first hour of arrival, and then one drink per hour thereafter.
So here's your calculator:
(Guests X 1.5) + (Guests X Party Hours AFTER FIRST HOUR) = TOTAL DRINKS

20 x 1.5 = 30
20 x 3 = 60
90 Drinks
Drinks:
A 750 ml bottle of wine typically pours 5 glasses.
Purchase 3 bottles of red, 3 bottles of white wine (6 bottles)
A 750-liter bottle of spirits typically pours 17, 1.5-ounce shots. (2 bottles)
Buy a bottle of vodka and a bottle of brown liquor such as bourbon or a scotch. Don't forget the mixers: tonic water, club soda, lime-soda, and of course, plenty of ice.

You'd need at least 26 bottles (or cans) of beer for your pals - if some or drinking wine, and spirits.
Pick up three 12-packs. Stock up on a variety of Minnesota-made beers.
Have more guests (or less), or just serving beer? Try out this handy dandy calculator for more help.
Food. Make sure your guests have plenty to snack on.

Chicken Wings - you want them, right?
We found a great calculator to help you figure out how many wings you'll need for your party of 20 pals.
20 average eaters = 240 wing pieces (or 120 whole chicken wings).
Bonus Recipe
Baked Buffalo Chicken Wings
It's a classic snack that started at the Anchor Bar in Buffalo, New York. Traditionally, the wings are deep-fried, but these baked wings are delicious without all the oil and an extra three points for being naturally gluten free. You can make these in batches.
Ingredients:
5 lbs. chicken wings (pieces)
1 stick butter
1 cup hot sauce (preferably Frank's Hot Sauce for authentic Buffalo wings flavor)
1 teaspoon salt
4-5 tablespoons vegetable oil
2 tablespoons Worcestershire sauce

First, make sure your wings are separated into drum and wing sections. You'll need a sharp knife or kitchen scissors to cut through the wing joints to separate into three pieces. Discard the tip of the wing so you have just two meaty pieces of the wing.
Preheat oven to 425 degrees. Line large baking sheet with aluminum foil. Brush oil on foil to make sure area is well greased.
In a large bowl, drizzle vegetable oil on chicken wings along with salt and mix until well covered. Line wings on the baking sheet (you'll likely need to make in batches) and place in oven for about 30 minutes (or until golden brown). Turn at about 15 minutes.
While cooking, add hot sauce, butter, and Worcestershire sauce to small saucepan, stir, and heat until butter is melted. In a large bowl, add cooked wings and pour sauce over wings. Mix until well coated.
Serve with celery sticks and blue cheese dressing, and plenty of napkins.
And, don't forget to have plenty of water and sodas available for your guests. Have a great party.