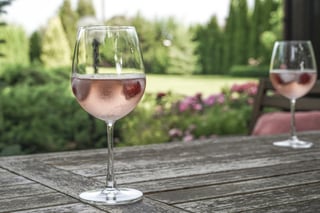 A rosé by another name would still be delicious, and still be the perfect summer sipping wine. Americans are drinking more rosé wines than ever, but the French continue to eclipse us, as they should. Rosé wine has become so popular, Fortune magazine says the sales are up more than 57 percent in the last year. We can't tell you why but we can tell you about some great wines to buy and try for yourself.
First, what makes it so special in the first place? That pink color. In this video, The Pink Stuff: What is Rosé Wine? [VIDEO], Haskell's Chairman and CEO Jack Farrell explains how rosé gets its unique color from the skins and stems of the grapes. The juice itself is colorless before it comes into contact with them.
There are so many lovely rosés we'd love for you to try this summer, like these:
Mado en Provence Rosé
This premium Provence rosé is a price point you'll love. It has a fine silky texture and pairs well with grilled fish, white meats or alone as an aperitif.
By Ott Rosé
From Cotes de Provence, this refined and elegant wine is perfect for any rosé enthusiast.
Chateau de Trinquevedel Tavel
From Tavel, France, known for its beautiful rosé. A clean, classy, impeccably balanced rosé that has both freshness and texture.
Chateau d'Esclans 'Whispering Angel' Rose
From the Whispering Angel is the introductory wine to the Chateaus line of rosé. Noted for its fresh, fruity yet bone dry characteristics. Classic, dry, driven by minerals. Enjoy it with food.
Matthiasson Rosé
From Napa Valley comes this delicious rosé made from a combination of Grenache, Syrah, Mourvedre, and Counoise.
Fleur de Mer Cotes De Provence
This French rosé is medium-bodied, fresh, and elegant with a soft texture and mineral finish.
A to Z Rosé
From Oregon comes this bright and rich rosé. This wine lingers on and finishes crisp with flavors of wild strawberries, watermelon, ruby red grapefruit, rosewater, and hibiscus.

BONUS: We put together a special Bouquet of Rosés just for you.
For a special price of only $59.99, you'll get a half dozen French rosé wines that range from effervescent and cheerful to classic and refined.
Do you know what goes great with wine? Cheese. Pair any of these great rosés with cheese from our Big Cheese delis in Minneapolis and St. Paul for a special treat. Cheers!