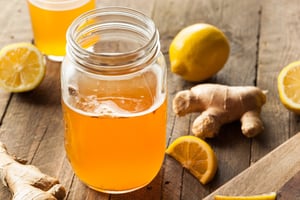 What is that pungent odor? Why is there a strange film floating on the surface of this beverage? How does something taste so sharp yet so good?
These are the questions you've asked if you've seen, smelled, or consumed kombucha. No longer confined to the weird science experiment in the corner of your outdoorsy-and-all-natural-type friend's kitchen, this beverage is making bold moves on its own and in a burgeoning intersection: kombucha cocktails.
Hold On — What is Kombucha?
Before we explore some odd but exciting kombucha cocktail recipes, let's get on the same page. Kombucha is black or green tea gone wild — a fermented colony of bacteria and yeast. Sounds weird, doesn't it? Often heralded for its natural health benefits, it's become a home DIY project for the adventurous (or the frugal) who seek probiotic benefits, though medically it's not yet confirmed through robust testing over time (sorry, folks).
If you like funky flavors, pickled foods, sour candy, or fizzy beverages, kombucha might be your next liquid obsession.
Why is Kombucha Good for Mixing Drinks?
The acidic quality of kombucha means there's tartness and a bit of vinegary punch that will be able to stand up to strong flavors like whiskey and gin.
Kombucha is a fine replacement for, typically, sugary fruit juices. No need to overload on glucose sweetness when you have complex, interesting fruit notes coming from your fermented new best friends.
Pro tips:
Mix in kombucha last. The effervescence it has means you don't need to shake it. A gentle stir will do once you've assembled the other ingredients.
Taste the kombucha before you mix it in a cocktail. Sweetness and tartness vary with each brand and flavor combination.
Now, let's get to the fun part: our recommended recipes.
Everyone who learns a little about cocktails knows one thing: citrus and gin are fitting dance partners. If you know of the classic Italian cocktail, the Negroni, you know the bright bitterness of Campari and other Amari make gin and citrus sing like an opera star. Ease into kombucha cocktails using an original/unflavored kombucha and let the classic flavors shine.
Ingredients:
2 oz. gin
1 oz. Campari
1/2 oz. fresh lemon juice
1/2 tsp. finely grated fresh ginger
5 oz. original kombucha, chilled
Lemon wedge for garnish
Stir gin, Campari, lemon juice, and ginger in a pint glass. Stir in kombucha. Strain through a fine-mesh sieve into an ice-filled Collins glass. Garnish with a lemon wedge.
Want to chase that ginger kick? You'll need to try this Moscow Mule variation, which substitutes ginger-flavored kombucha for ginger beer. Go ahead, make two — we won't tell anyone. For excessive spice attack, serve it with a fresh, thin slice of ginger.
Ingredients:
1-1/2 oz. Belvedere Vodka
3/4 oz. fresh lime juice
2 tsp. simple syrup
3 oz. ginger-flavored kombucha
Lime wedge for serving
Combine vodka, lime juice, and simple syrup in an ice-filled glass. Top with kombucha and garnish with a lime wedge.
Fan of whiskey sours? Mix it up with kombucha and make the aroma of mint work to your advantage in this drink.
Ingredients:
1-1/2 oz. Koval Bourbon
2 oz. kombucha
1/2 oz. lemon juice
1/2 oz. simple syrup
Mint for garnish
In a cocktail shaker with ice, combine bourbon, lemon juice, and simple syrup. Shake until well-chilled, then strain into a rocks glass with fresh ice. Pour kombucha and gently stir. Garnish with a big sprig of mint.
There you have it, fantastically fizzy and funky kombucha cocktails. Once you start in on these, you'll start getting flavor combination ideas of your own, so your summer of cocktail fun has just begun.