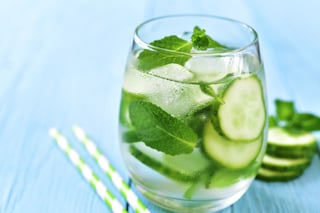 If you are a vodka purist, you may feel inclined to avoid flavored vodka. Don't. We're here to tell you that if you try one flavored vodka in your life, make it a cucumber vodka. Especially now, in the perfection that is summer. Why? It's refreshing. It's crisp. It's clean. It's as cool as a cucumber!
We're so certain you'll love it, we're dedicating a whole blog about it. So, how do you drink it? Splash some over ice, with a slice of fresh cucumber as a garnish, put your feet up on the deck, and sip.
Or you can spend a little more time and mix up one of our delicious cucumber vodka cocktail recipes (scroll down). It's your choice.
Three Thirst-Quenching Cucumber Vodka Brands
EFFEN® Cucumber Vodka — Simply delicious. Provides a crisp twist to a traditional martini or mule, and also mixes well with soda water, tonic, or lemon-lime soda to create a cool, refreshing taste.
Prairie Cucumber Vodka — Taste the freshness with this cucumber-infused organic vodka.
Square One Cucumber Flavored Vodka — Organic vodka blended with fresh cucumber lends a crisp, refreshing note to both simple cocktails and more complex culinary-style cocktails.
Six Satisfying Summer Cucumber Vodka Cocktail Recipes
Organic Strawberry Cucumber Cocktail
2 ounces Square One Organic Cucumber Vodka
1 ounce homemade simple syrup
3 organic strawberries, sliced
3-4 slices organic cucumber
1 squeeze of organic lemon
juice from ½ organic lime
soda water
ice
In a Collins glass, muddle the strawberries and simple syrup. Add the vodka, lemon juice, and lime juice. Fill with ice and top with soda water. Add cucumber slices and stir before serving.
Lime, orange, cranberry...and, of course, a cucumber base. Fresh and delicious.
1 ¾ parts EFFEN® Cucumber Vodka
½ parts triple orange liqueur
¼ parts fresh lime juice
½ parts simple syrup
1 part cranberry juice
Combine ingredients in a 3-piece shaker and shake vigorously to chill. Strain into chilled cocktail glass. Garnish with lime wheel.
15 mint leaves in a mixing glass, add:
1/2 oz of melon liqueur
2 oz of Cucumber Vodka
Muddle mint in the liquid well, add ice and stir until very cold, double-strain into a chilled cocktail glass, garnish with a mint leaf
Divide the ingredients in half, add each half to a cocktail shaker and shake to combine. Pour over rocks glasses filled with ice and serve.
4 ounces Prairie Cucumber Vodka
4 1-inch cubes of seedless watermelon
2 limes, diced
2 ounces simple syrup
Garnish: Lime Rim (equal amounts salt and sugar combined with some fresh-grated lime), 2 Watermelon Slices, 2 cucumber slices, 2 small mint sprigs
Combine vodka, watermelon, and lime in a cocktail shaker. Muddle all ingredients well. Add simple syrup, fill with ice, cover and shake until ice cold. Rim the glasses with a cut lime and dip in the lime rim mixture. Fill the glasses with ice and pour the ingredients from the shaker into the glasses. Garnish with a watermelon slice, a cucumber slice, and a mint sprig.
2 ounces cucumber vodka
1 ounce simple syrup
½ ounce quality ginger ale or ginger beer
½ ounce lemon juice
1 ounce sparkling water
1 slice cucumber
1 cantaloupe ball
Add cucumber vodka, simple syrup, ginger ale, and lemon juice to a shaker. Add ice cubes, cover, and shake vigorously. Strain into an Old Fashioned glass, add ice, top with the sparkling water, and garnish with a cucumber slice and cantaloupe.
Cheers!