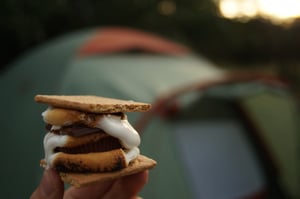 It's Friday afternoon and your awkward coworker is the only other person in the office because everyone else is "up at the lake."
(That's how you know it's summer in Minnesota.)
But just because you're not at a cabin or camping in the woods doesn't mean you can't enjoy classic summer fun and flavors. Text your friends, plan an evening at a park by the lake, or even in your backyard. Then break out the secret weapon your cabin-loving coworkers forgot at home: campfire cocktail recipes.
S'mores around the campfire is admittedly summer's prime eating ritual. The simplicity of melty chocolate, crunchy graham crackers, and gooey marshmallows toasted over the fire is hard to beat.
There's absolutely nothing wrong with staying true to the trusty old s'more...and yet, there's always that pesky problem of sticky fingers and burnt marshmallows—not to mention how thirsty you get. If only there was a way to get the classic combination of flavors without the hassle and the mess.
That's where these tasty campfire cocktails come in.
3 Campfire Cocktails for Guaranteed Summer Fun (Cabin and
Lake Optional)
It's impossible to have just one: S'mores Campfire Cocktail
Assemble your ingredients for each drink:
1 marshmallow
1 tbsp. chocolate syrup
1 tbsp. graham cracker crumbs
1 oz. vodka
2 oz. Baileys Irish Cream
2 oz. 2% milk
Ice
Construct your S'mores Campfire Cocktail:
Place the marshmallow in a pan over medium heat and toast until browned (1-2 minutes).
Rim a lowball glass with chocolate sauce and dip immediately in ground graham cracker crumbs.
Fill the cocktail shaker with ice, vodka, and Baileys. Shake vigorously for 30-60 seconds (the longer the better).
Pour liquor mixture over 2-3 ice cubes in a glass, and add milk.
Top with a toasted marshmallow.
Get toasty, coffee-lovers: Toasted Marshmallow Campfire Cocktail
Craving the rich flavors of coffee or just need an evening boost after a long week? Dust off your espresso machine (if you're lucky enough to have one) and get ready to impress your guests.
Ingredients you'll need for each cocktail:
Marshmallow crème
Splash of pure vanilla extract
2 tsp. simple syrup
2 oz. hot espresso
1 oz. vodka (marshmallow flavored or plain)
Toasted marshmallows for garnish
Ice
How to build the beverage:
Place 2-3 spoonfuls of marshmallow crème in a glass.
Add vanilla and simple syrup.
Pour espresso over marshmallow mixture and stir vigorously until completely combined (about 1 minute).
Add vodka and ice.
Top with toasted marshmallows.
It's time for more dessert, right?: Bourbon Root Beer Ice Cream Floats
Serving a group of happy campers? Make a big batch:
1 bottle of your favorite Bourbon
1 pint of quality vanilla ice cream
12 bottles of cold root beer
1 16 oz. cup and straw per person
Or you can make individual drinks:
Pour 2 oz. of bourbon in a cup.
Add 2 small scoops of vanilla ice cream.
Pour ¾ of a bottle of root beer into the concoction.
Stir and serve with a straw.
With these recipes on hand, the only thing you need is a warm evening and some good friends. Your backyard summer party will be one to remember, cabin or no cabin.