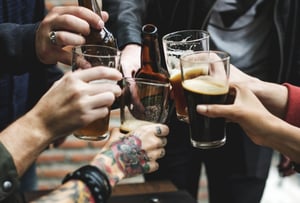 We could write every day about Minnesota craft beers and never lose things to talk about. Why? Because so many are well-crafted, rooted in tradition – and, most importantly, great to drink.
Here's our "hot list" of Minnesota's best brews, some of our favorites, and some of the top-sellers around our state. The final decision is up to you, since everyone's tastes differ and there is no right or wrong answer when it comes to what hops make you happy. But you could definitely have a lot of fun exploring these options, either from A to Z (okay, our list ends at W), or one end of the state to the other! Cheers!
Where to find some of Minnesota's best brews:
A valued member of Northeast Minneapolis, Able is doing something above and beyond: focusing on locally grown seed, grain, and malting, as well as brewing. Grab a toasty, caramel pint of Propers Pub Ale or a more roasty and dark BLK WLF Stout to appreciate their unique approach. Grab some Animales BBQ from the truck outside the brewery, and you're in for a superb day.
If you're in St. Paul, you simply must pay a visit to Barrel Theory. The name of the game: lots of hops in lots of IPAs, and lots of tartness in lots of sours. The brew names alone are worth your attention. Examples: Dorothy Mantooth IPA and Key Sublime kettle-soured Berliner Weiss-style ale with key lime juice, vanilla, and cinnamon.
We love all four of their core brews, but their hoppy amber lager, Wagon Party (5.4% ABV) is one worth hopping on the party train for. Read more about Bauhaus. Visit Bauhaus in Minneapolis for bright colors, cool warehouse digs, and lots of friendly dogs.
When you go up to the North Shore, surely you'll stop at Bent Paddle in Duluth. You can count on their trusty flagship beers like Black Ale and Venture Pilsener Lager. Read more about Bent Paddle.
Nestled in a corner of Northeast Minneapolis, they keep it small in location but big in flavors and reputation. You absolutely must try their Peanut Butter Porter (like Cap'n Crunch in a glass!), Chocolate Milk Stout, Belgian Table Beer, or Kolsch. Spot the rotating food trucks outside, making this a great option for Minnesota breweries with food.
If you're in Rochester, plan a meal at Forager. Drink their fruited sours like Gummies Make Us Likable, or try a malty pastry stout. One of the best Minnesota breweries with food outside the Twin Cities, their kitchen creates delectable farm-to-table dishes with all local sourcing. Go for gourmet pizza, unique salads, and seasonal options — you might even find bánh mì sandwiches.
A classic Twin Cities hoppy pint to check out: Sweet Child of Vine IPA (6.4% ABV). Find out what else these folks produce by reading our article on Fulton. They've got a trailer – not because they're living outside their downtown Minneapolis brewery, but because they're one of the many Minnesota breweries with food, which they make in their Airstream kitchen.
There's some fine beer brewing in the brick buildings and artistic enclaves in Northeast Minneapolis. Let It Ride American IPA (6.8% AVB) is a favorite at Indeed. Read more in this article on Indeed Brewing. Visit them during Art-A-Whirl and you'll dance to the sweet live music lineup and have a whole building of artisan goods to explore right above the taproom.
Another high-quality brewery in Minneapolis with a high-entertainment value brand (check out the fantastical stories for each beer name). Try their Troll Way IPA (7.0% ABV), a citrusy IPA with hints of grapefruit, peach, and lemon zest.
Venture to Moorhead, Minnesota, and make your first stop Junkyard. Definitely not trashy, this brewery specializes in New England-style IPAs with lots of juicy, tropical, and aromatic brews for patio parties and late-night hangs.
For those who love hops and love to visit Stillwater, check out Hop Dish (7.5% ABV) or the highly drinkable Farm Girl Saison, which has hints of baking spices (5.8% ABV). Or try Crosscut, an amber pale ale with a hint of grapefruit zest. Read more about Lift Bridge.
In Minneapolis' North Loop, Modist isn't any old taproom for pre-Twins game forgettable beers. Expect to be blown away by intensely bright hops and surprising flavor combinations. Standout brews are the multiple-year award-winning Dreamyard IPA, First Call Cold Press Coffee Lager, and Supra Deluxe Premium Lager. Consistent food trucks provide perfect pairings with the beers of your choice. Don't forget to grab some munchies since this is another Minnesota brewery with food trucks on the regular.
One of the old guard of Twin Cities craft brewers, St. Paul's Summit Brewing Company deserves respect. We love their American IPA, Summit Sága IPA (6.4% ABV). Here's more in our article about Summit Beer.
We couldn't mention Minnesota craft beers without Surly. These guys came on the scene and made beer magic with Furious (6.2% ABV), their nationally-known American IPA that goes big for both hops and a robust malt profile. We have the story behind the beer. Learn their process on one of the best Minneapolis brewery tours – yes, there are samples. Don't miss the extensive line of experimental batches in their massive taproom and restaurant (their hazy New England-style IPAs are some of the best in the state). Two hints for foodies looking for Minnesota breweries with food: Arrive early to grab a table in the courtyard on a summer day and go for burgers, BBQ, and cheese boards. Or climb to Surly Pizza Upstairs for crispy, crunchy thin crust pizza goodness and a killer baba ghanoush dip.
Bless the barrels in South Minneapolis – this is a seriously wild brewery that doesn't care to play it safe. Thankfully, it pays off with their amazingly zingy, fruity, effervescent brews. Try funky cherries in a glass of Spontané: Kriek, a coolship American wild ale, or Kuanos Foeder Sour IPA to get started.
Can't get enough of Minnesota craft beer?
Our good friends at the Minnesota Craft Brewers Guild put together an extensive online resource outlining Minnesota beer near and far, with a list of breweries and pubs. Check out the Minnesota breweries map and create your own personalized itinerary of delicious drinking at Minnesota brewery tours.
After you visit some of our state's finest breweries, bring back some brews. In this brief video, Haskell's Vice President of Marketing and E-Commerce Beau Farrell shares practical tips for enjoying your beer. There's lots of enjoying to do, so get to it!