Toasting A Local Craft Beer With A National Reputation
You have to hand to the crew at Surly Brewing Company. They've attained rock star status in Minnesota – and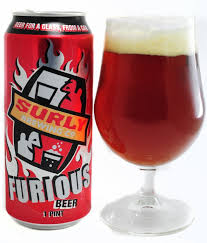 changed the landscape of the local craft beer movement. It was ten years ago that Surly Beer founder Omar Ansari and brewmaster Todd Haug brewed their first batch. It wasn't long after that Furious was born and national accolades for this local brewery came rushing in.
Fast forward, and there are now six year-round beers available from the Surly crew, plus a plethora of seasonal, occasional, and specialty ales – most with bold names to match their flavors.
If you're already a fan of Surly, we've got you covered for your next beer run. And if you aren't sure where to start, here's a primer to help guide you through the Surly offerings and help wet your whistle.
The Surly Six (Year-Round Beers and Ales)
2015 Special Releases from Surly
**ABV = Alcohol By Volume
National Attention
Surly may be a Minnesota beer, but it is getting national attention. In the last month alone, Buzzfeed rated Surly MSP as one of 29 places every American craft beer fan must visit before they die, Bon Appetit just featured Surly Hell as a great option for people who don't think they like craft beers, and Food & Wine Magazine recommended Surly's Bitter Brewer.
Whatever your style of beer and ale, you'll find it in any of our Haskell's beer coolers. We're local, supporting local.
Founded in 1934, Haskell's has championed fine wines for over 80 years. We have 13 wine stores in Minnesota, two delis and one restaurant. As one of the top wine shops in North America, Haskell's is known for legendary service and one of the finest collections of wine, beer and spirits. Led by Chairman and CEO Jack Farrell, and the Farrell family, Haskell's continues to be at the forefront of the wine scene throughout the world. Haskell's also can ship wine, beer & spirits all throughout the world, the U.S. and we deliver locally.