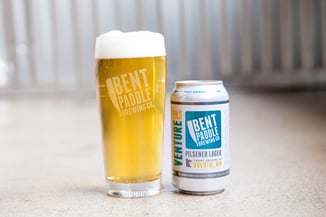 Minnesota's long love affair with beer is nothing new but there are many new beers made in Minnesota to fall in love with – including a craft beer brewed from the waters of the Great Lakes. Bent Paddle Brewery is the little paddle that could, celebrating its second year in production and already in expansion mode.
They are heading west, after heading north. From Minneapolis where the two married couples who run the brewery met, to Duluth where the brewery operates, and now to St. Cloud. The Bent Paddle crew took the show on the road last month – a portage tour in and around St. Cloud — as they introduced beer lovers to their highly popular and in-demand craft beers. From the look at the media attention the tour garnered, we think Bent Paddle is on its way to becoming a household name
So, what's with the name?
As they tell it, Bent Paddle Brewery is so named for the bent shaft canoe paddle one of the co-owners used to mix his brewing mash while at Rock Bottom Brewery, as well as a shared passion for canoeing. Two young couples met. Their ideas fermented. A brewery was born.
Co-founder and Director of Brewing Operations Bryon Tonnis shared this on the company website: "We chose Duluth to build our brewery because of the closeness to the natural environment and more importantly the waters of Lake Superior. We have also found Bent Paddle is a beer that helps craft beer drinkers relive some of their favorite memories in the outdoors in northern Minnesota. We know those rich memories live among craft drinking supporters here in St. Cloud."
But let's get to the beer.
Made from the cold waters of Lake Superior, these taste great right out of the 12-ounce can they come in. There are four year-round offerings from the brewery, but let's start with the seasonal offering — the Paddle Break Blonde. It's a Belgian-style blonde ale available from April to August with a 6.0 percent ABV.
Bent Paddle's Four Year-Round Beers
You can find Bent Paddle in the cooler at all of our Haskell's locations. We're your local store, proudly supporting our local craftsmen and women who are creating Minnesota beer, wine and spirits.
Cheers!

Founded in 1934, Haskell's has championed fine wines for over 80 years. We have 13 wine stores in Minnesota, two delis and one restaurant. As one of the top wine shops in North America, Haskell's is known for legendary service and one of the finest collections of wine, beer and spirits. Led by Chairman and CEO Jack Farrell, and the Farrell family, Haskell's continues to be at the forefront of the wine scene throughout the world. Haskell's also can ship wine, beer & spirits all throughout the world, the U.S. and we deliver locally.