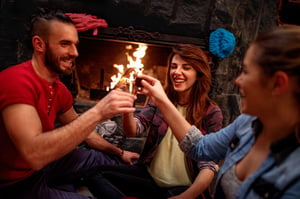 The time we all dream of is here: summertime "up at the cabin."
That's right – the upper Midwestern exodus to lakeside weekends, family reunions, and fun in the sun has finally arrived. That means you need to get your plan down, not just for who's grilling burgers or competing in this year's volleyball tournament, but what you'll drink for cabin happy hour.
Pack your swimsuit, sunscreen, sunglasses, and a sunny disposition, because that's just about all you'll need in addition to a tasty cabin happy hour full of crisp wines, refreshing beers, and cocktail recipes for just the right summer getaway feeling.
There's a Reason People Say "Rosé All Day"
When there's nothing to do but set up the hammock, grab a good novel, and relish the slow pace of summer at the lake, there are few things as simply delicious as a glass of summer-perfect rosé by your side...or a bottle, for that matter, if you and your friends love a cabin happy hour that lasts all day.
Take a load off and enjoy rosé wines, such as:
White Wines, Not Tan Lines
You may want to find affordable wine to serve with lunch or dinner at the cabin. Or perhaps you know Uncle Vern and Cousin Anne are big white wine fans. Be sure to add delectable white wines to your cabin happy hour options.
Easygoing With Easy-Drinking Lakeside Beers
There are plenty of light beer options for summer weather – but hone in on a few that you won't get bored with when spending a couple days (or a week) at the cabin. Try some of these Minnesota-made brews first at your cabin happy hour:
Indeed Brewing "Shenanigans" Summer Ale with Honey
Lift Bridge Brewing Crosscut Pale Ale
FINNEGANS Brewing Co. Blonde Ale
Boom Island Brewing Witness Belgian Witbier
Pucker Up With a Kombucha Cocktail
Nothing says summer like citrus, and this is a bright cocktail you can lazily sip midday without feeling guilty (even if your in-laws give you side-eye). Make a Rosy Gin-Kombucha Cocktail, which showcases bright bitterness with an unflavored kombucha.
Garden Freshness in a Glass: Cucumber Vodka
There's no reason you can't eat healthy and delicious up at the cabin happy hour. Find some plant-based snacks (our favorites are garlicky hummus with bell peppers) and a bottle of cucumber vodka. I know, I know – but give it a shot.
Along with orange liqueur and cranberry juice, you'll gain a lot of garden fresh inspiration drinking a Cucumber Cosmo and other cucumber vodka cocktails up at the lake.
Campfire Cocktails to Wind Down After a Long Day of Fun
While the kids get jazzed about root beer floats, earn the instant appreciation of their moms and dads by offering to make the adult version: Bourbon Root Beer Ice Cream Floats. With a simple list of ingredients (root beer, ice cream, and bourbon), there's no way you won't be everyone's favorite by the end of the night.
Let cabin happy hour commence!