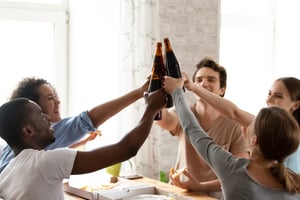 Whether during the dead of our harsh winter or on one of our sunny summer days, Minnesotans look forward to enjoying themselves with the best Minnesota beers.
And that's pretty easy to do. At recent count, there were more than 150 craft breweries in Minnesota alone! The nationwide Brewers Association has rated Minnesota brewers (like Surly and Summit) among the best craft brewers in the United States. Beer made in Minnesota is on tap in hundreds of bars and restaurants, and it's distributed around the Midwest and the country – some even around the world. This is clear: not only does our state make a lot of beer in a lot of places, but we also have some pretty damn good brews that other states would be jealous of.
So with all those massive numbers of options, how do discerning Midwesterners pick the best Minnesota beers? We polled our favorite people – you – and collected some of our favorite responses and best recommendations.
Choose the Best Minnesota Beers Wisely
Haskell's customer Emily says, "That's tough, there are SO many good ones!" Two of her favorites are Broken Clock Brewing Cooperative Lavender Uprising IPA and Lift Bridge Brewery Mango Blonde Ale.
Customer Pat says, "So many to choose from! Modist Brewing Ritual Night Mexican Dark Chocolate Stout and Surly Brewing Bender Brown Ale have to be at the top of my list."
Feeling Light and Carefree
Castle Danger Brewing Cream Ale
From the North Shore on Lake Superior comes this state-famous easy drinker. Summer knows no better classic than Castle Danger Cream Ale.
Hamm's
Dating back to 1865, this is a classic American light beer with Minnesotan origins.
Minnesotans Love Their IPAs
Modist Brewing Dreamyard American IPA
One of the most popular IPAs around Minnesota for the past couple years, Dreamyard is a hazy, juicy IPA that leans into citrusy effervescence. Less bitter, lots of flavor.
Steel Toe Size 7 IPA
A bold IPA with a big aroma and the flavor of zesty orange peel.
Fulton Brewing Sweet Child of Vine IPA
Balanced, bright, and bursting with a bouquet of hops aroma for Minnesota days and nights.
Pryes Brewing Company Miraculum IPA
Haskell's customer Jacqueline says Pryes' signature brew Miraculum is "a well-balanced, award-winning brew. It's an easy drinking beer. Plus, it's made from the purified waters of the Mississippi, a nod to the brewing legacy of the state."
Inbound Brewco Fruit of the Loop: Citrus IPA
A juicy, sweet IPA with Centennial, Cascade, and Chinook hops. So much fruity flavor, you might want to enjoy it with Saturday morning cartoons.
Big Wood Brewery Fine! IPA
Think tropical fruits like papaya and mango in this hoppy India Pale Ale, which has sweet malt notes come through the bitterness.
Lupulin Brewing Hooey New England IPA
Noteworthy Flavors with Minnesota Nice Reputation
Lift Bridge Brewing Farm Girl Saison
This medium-bodied Belgian-style Ale is smooth and well-rounded with a hint of spiciness.
Jack Pine Brewery Duck Pond Nut Brown Ale
Toasty, rich, and perfect for cool nights up north.
Schell's Brewing American Dark Lager
One of the lightest, dark beers you will find. Deep amber color with a light maltiness and a mild hop bitterness.
Summit Brewing Extra Pale Ale
Not quite an IPA, but don't underestimate this big hops-flavored beer that offers plenty of malty richness as well.
Surly Darkness Barrel-Aged Russian Imperial Stout
With so many great Minnesotan beers, you now have a cheat sheet for where to start. Prost!
So, what's your favorite Minnesota brew? Fill in the comments below, we'd love to hear what you like.