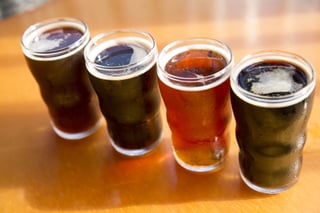 Summer in Minnesota makes up for those harsh cold winter days. It's hard to even remember one when the grass is green, the fish are jumping and the garden is growing. If you have a few days off, why get on a plane to go anywhere else, when you can go on a summer staycation in Minnesota and have the time of your life. With the explosion of craft breweries across the state, it's a good time to explore all that the state offers with craft beer tours in Minnesota. You'll get a chance to enjoy the scenic drives, local restaurants, and fun activities – and savor suds. We think that's a win-win situation.
Our good friends at the Minnesota Craft Brewers Guild have been thinking the same thing. They've put together an extensive online resource outlining opportunities to explore Minnesota from corner to corner or simply region by region. There is even an interactive map with breweries and pubs so you can create your best Brewcation Staycation ever.
Are you going "Up North" for a weekend? Explore Minnesota's Iron Range and rugged good looks along the scenic drive. You'll have more than 10 breweries and pubs to choose from including stops in Bemidji, Duluth, Two Harbors, Knife River and all the way to Grand Marais where you can stop by a beer. In Duluth, you'll want to stop at Bent Paddle Brewing while planning the rest of the weekend.
You'll find great stops in every region of the state: Southern Minnesota, Central Minnesota, Northern Minnesota, and in the metro area, you'll always be just one quick stop away from another great beer. Have you checked out the new Surly Tap Room or the Summit Brewery yet? You'll want to do that – and while you are it, book a hotel room in one of the downtowns, agree to take taxis or Uber rides, and enjoy hops to hops on your Minnesota craft beer Staycation. West Coast and East Coast, we love you, but the Midcoast is the best place to be for the summer. And, when it comes to craft beer, well, we've got that too.
We'd love to hear your favorite stops on your Minnesota craft beer tour. What has been your best brew stop on your Staycation?
Founded in 1934, Haskell's has championed fine wines for over 80 years. We have 13 wine stores in Minnesota, two delis and one restaurant. As one of the top wine shops in North America, Haskell's is known for legendary service and one of the finest collections of wine, beer and spirits. Led by Chairman and CEO Jack Farrell and the Farrell family, Haskell's continues to be at the forefront of the wine scene throughout the world. Haskell's also can ship wine, beer & spirits all throughout the world, the U.S. and we deliver locally.