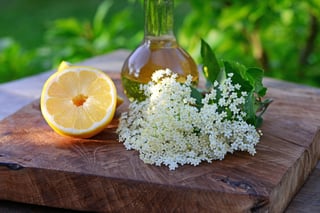 Can you feel it? The days are slowly getting longer, and you're inevitably getting thirstier, which is a good problem to have when you realize how many refreshing elderflower cocktails you can enjoy with the change of seasons.
What is Elderflower Liqueur?
What if you could bottle and drink the fragrance of spring? With elderflower liqueur, you basically can. It's almost too simple when you realize elderflower is a spring flower.
Traditionally picked on the hills across England and France, elderflower blossoms are off-white beacons of spring.
Once known for medicinal and invigorating properties, elderflower is now harvested for food and drink in Europe, and it's gaining popularity in the United States. It's all about seizing the moment, because the time for harvesting elderflower is a matter of weeks, and producers process it all while the best flavors can be coaxed out of the beautiful blossoms.
What Does Elderflower Liqueur Taste Like?
Some say elderflower liqueur evokes flavors like pear, grapefruit, peach, passionfruit, or lemon.
Whichever flavors you prefer, this liqueur is truly a welcome guest to a large variety of drinks. Are you strictly a vodka person? Try pomegranate, vodka, elderflower, and white wine known as The Châtelaine. Sticking to gin? Opt for the invigorating Ruby Red with grapefruit, gin, elderflower, and Campari.
Add elderflower to your sangria. Add it to your Champagne. Put it in your martini, or in your grapefruit mimosa. You will probably run out of ideas before you taste an elderflower-enhanced cocktail you don't like.
Elderflower Cocktail Recipes for Warmer Weather
You're going to want to try this floral liqueur when the last of winter shakes off. These recipes will get you started.
Keep it Simple: Just a Dash in Your Favorite Champagne
Dry Champagne with this sweet flower power will suit your next classy patio party.
Combine first four ingredients and shake with ice. Strain into a flute and top with sparkling wine.
Do it Northern Italian style:

The Hugo
4 oz. Tiamo Prosecco

1 oz. St. Germain Elderflower Liqueur

1 sprig fresh mint

1 lime wedge
Muddle mint leaves in a wine glass. Add lime wedge and ice. Pour in elderflower syrup or liqueur and top with Prosecco. Stir and serve.
Pro tip: increase the herbal and citrus complexity by adding one slice of orange and a sprig of fresh rosemary.
4 sage leaves

1 tsp. sugar

5 thinly sliced cucumber slices

1 egg white

1-1/2 oz. Prairie Gin

1/2 oz. fresh lemon juice

1/2 oz. simple syrup

1/4 oz. St-Germain Elderflower Liqueur

Angostura bitters
Muddle sage leaves, sugar, and four cucumber slices in a cocktail shaker. Add egg white, gin, lemon juice, simple syrup, St-Germain, and a dash of bitters. Cover and shake vigorously for one minute until egg white is frothy.
Fill shaker with ice and shake vigorously one minute until outside is frosty. Pour into a coupe glass and garnish with remaining cucumber slice.
Which elderflower liqueur cocktail will you love most? You'd better finish your spring cleaning soon and fix yourself a few refreshing, floral drinks to find out.