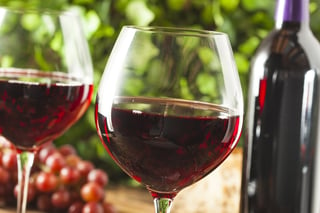 Run through a mental list of wine types you and your friends know, and it won't be long until someone mentions Merlot. For good reason: it's a staple modern wine because it appeals to a wide scope of wine drinkers.
Here's a rundown of Merlot, what wine expert Paul Gregutt called "the Chardonnay of reds."
What is Merlot?
Not bold, but not boring — this wine is just right for the average drinker and everyday occasions.
Want a basic history lesson? Just like Merlot, we'll keep it simple and to-the-point.
Merlot originated in the Bordeaux region, one of the most well-known wine regions in the world. It has produced lots of great wine over the centuries.
The earliest records of Merlot were in the notes of a local official, who in 1784 praised the quality of wines coming from Bordeaux.
Merlau, as it was called until 1824, was named for the "little blackbird" that loved eating the ripened grapes.
Skip ahead to the 1990's, when Merlot climbed to peak popularity in the United States. Who doesn't want a good, no-frills, dependable red wine?
Things got a little rockier in recent years. Remember the 2004 comedy/drama "Sideways"? That classic scene of Paul Giamatti's character threatening to walk out if someone ordered Merlot wasn't just film fiction — Merlot sales actually declined during the years following the film.
Does this mean Merlot isn't a good wine? Not at all. In fact, it does some things better than most other wines.
What Makes Merlot Different Than Other Red Wines?
Whenever you see Merlot, think of that person you know who's friends with everybody: casual, easy-going, and a good addition to a room full of different people.
You'll taste sweet fruit notes of strawberry, watermelon, cherry, raspberry, and plum.
Medium dryness makes it interesting, but not intimidating.
Some Merlots are oaked, which gives hints of vanilla.
Tannins and acidity rank in the middle.
Translation: this is an agreeable, versatile, easy-to-drink wine.
How does Merlot get that smooth body and soft finish? It's typically a blend of Merlot grapes and other varietals, especially Cabernet Sauvignon.
Contrast a soft, smooth Merlot with more intense and complex reds like a dense Syrah/Shiraz or a spicy Malbec that may be too overwhelming for some palates.
If you're looking to bring an interesting, less common, or "fancier" bottle of wine to a friend's dinner party, skip the Merlot section. Check out blends like Cabernet-Sangiovese or what wine experts call GSM: a luscious French blend of Grenache, Syrah, and Mourvedre.
However, if you're introducing a friend to wines or exploring some of the basics yourself, grab a Merlot for a straightforward, pleasing red wine.
Does Merlot Age Well?
How old can Merlot go?
Most Merlots will give you their best taste when they're young — that means you don't need to age them. But if you did set aside some bottles of Merlot for 3-5 years, you might notice they become a little more earthy or stiffened with notes like tobacco, leather, and coffee.
Foods That Pair with Merlot
Because Merlot lacks the depth of characteristics of other reds, it's best suited as a mealtime wine. But that's good news. It's smooth and friendly for so many palates that you have plenty of options for food pairings.
Just one word of advice: skip the spicy foods and cooked green vegetables that would overwhelm the Merlot's sweet, soft characteristics. Stick to crowd-pleasing foods to go with this crowd-pleasing wine.
Here are a few great combinations you'll enjoy:
Open the bottle to let the wine breathe while you cook. Then sit down to dinner and enjoy your meal with Merlot!