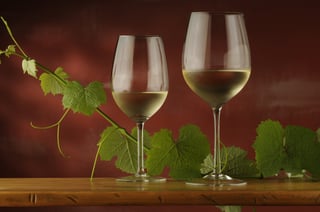 You're standing in the wine section surrounded by bottles from around the world, but you can't remember if your friend said she likes Pinot Grigio or Pinot Gris. The names are almost the same, but how about the wines? If you buy the wrong one, will she know the difference?
This pair of Pinots is a great example for anybody who wants to complain about wine names sounding confusing. Some are, but understanding their differences is what makes studying wine so fun. Where else do you get to tip back a glass to learn something? So, let's discuss the differences and similarities of Pinot Grigio and Pinot Gris, as well as some delicious food pairings that will help you get the most enjoyment out of these popular white wines.
An Introduction to the Pinot Gris/Grigio Grape
As you might guess from their names, Pinot Grigio and Pinot Gris are made from the same grape.The Pinot Gris grape originated in France's Burgundy region, and it was named gris (French for gray) because of the dusty gray, brown, and pink hue it takes on as it ripens. In Italy, however, it's called Pinot Grigio.
Pinot Gris and Pinot Grigio are also related to other wine types you may have heard of: Pinot Noir and Pinot Blanc. If you think of the Pinot family on a spectrum, put dark red on one side and white on the other — and gray is right in the middle.
Pinot Noir: A dry, light- to medium-bodied red wine
Pinot Grigio and Pinot Gris: Bright, light- to medium-bodied white wines
Pinot Blanc: A clear, shimmering semi-dry white wine
Same Grape, Different Taste
Like Syrah and Shiraz, or Fumé Blanc and Sauvignon Blanc, Pinot Grigio and Pinot Gris are the same kind of grapes but with varying places of origin. Because of their location's climate and soil, the same grapes can create different flavor profiles. Fun fact: The combination of the natural environment's soil quality, precipitation, elevation, and weather all create what fancy wine experts call terroir.
Pinot Grigio is known as a simple, dry white wine. You'll notice it offers less sweetness than other whites like Riesling or Moscato but with a bit of green apple, lemon, or lime citrus notes. It's an easy-drinking choice for those who are looking for something crisp and refreshing to pair with lunch.
Pinot Gris carries more rich and zesty notes of pear, honeysuckle, white peach, ginger, and spice. High acidity makes the flavors dance on your palate — perfect for summer days and as an aperitif before dinner.
Best Food Pairings with Pinot Grigio
Now that you know the different taste profiles of Pinot Grigio and Pinot Gris, let's look at a few common food pairings. Because Pinot Grigio is crisp and light-bodied, it's a great beverage with foods like grilled shrimp, shellfish, mussels, oysters, clams, fresh vegetables, salads, and light appetizers. Think backyard or beach lounging and fun in the sun, with Pinot Grigio chilling on ice in the shade.
Top Food Pairings with Pinot Gris
This is your chance to go beyond a simple red blend and pasta that everybody pairs together. Pinot Gris' complexity and richness will stand up to a heartier dish you prepare. Enjoy it with savory fish in cream sauce, pork, duck, chicken, or turkey as your main course. On the side, add sautéed greens or grilled zucchini, Brussels sprouts, or zesty garlic-lemon broccoli.
Before the meal, offer these wines along with a semi-soft to hard cheese. For example: try Pinot Grigio with Gruyere and Parmigiano Reggiani cheeses. The wine's acidity will sparkle on your palate and mix nicely with the cheese's smoothness.
Pro tip: Serve Pinot Grigio and Pinot Gris chilled at 45º Fahrenheit.
Two Reasons to Choose Pinot Gris Over Pinot Grigio
Of course, your final selection between these two wines is a matter of your preference. But here's a brief case for why you should try more Pinot Gris.
1. Pinot Gris is Widely Enjoyable and More Interesting Than Pinot Grigio
Pinot Grigio is a rather underwhelming, nondescript wine, and it has developed a strong following in recent years due to its availability. Pinot Grigio is very neutral — some say "it doesn't offend anybody" — which can be a good thing when you're serving a lot of different people who enjoy various styles. But Pinot Gris offers a more distinct flavor profile that pairs with virtually as many things as Pinot Grigio and will delight both new wine drinkers and experienced ones alike.
2. Pinot Gris is as Easy to Find as Pinot Gris — but with a Bigger Flavor Payoff
One of the best things about Pinot Grigio and Pinot Gris is that you can locate them just about anywhere. If you've got the options between these two wines, why not choose the one that you know delivers zesty acidity and rich flavors in a light body? Since they're made and distributed all around the world, there's a Pinot Gris for everyone out there.
If you're feeling curious, ask a Haskell's wine expert to walk you through the Pinot Gris vineyards of the world at Haskell's.