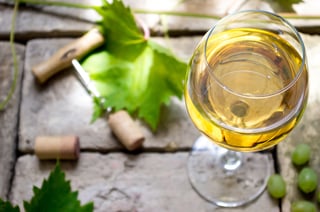 Golden leaves and cooler temperatures may tempt us to forego the whites and concentrate on the heavier wines and beers. However, a good chardonnay never goes out of style. You have to put away your white shoes and belts for the fall, but your white wine is just fine. And with so many celebrations coming up, we've put together a list that will help wine lovers pick the best chardonnay for any gathering. Cheers!
Pick the Best Chardonnay for Any Gathering
Ramey Chardonnay Russian River - Dinner with the in-laws or perhaps someone very special you want to impress? This is the one. If shellfish, crab or lobster are on the menu, go with this. Imagine all the good impressions you can make for only $44.99?
2004 Grgich Chardonnay - Estate grown, luscious aromas of baked pear, lychee nuts, and wild honey. The grapes were grown organically at Grgich Hill's American Canyon and Carneros vineyards, where the coolness allows the grapes to develop complex flavors while maintaining a pleasing natural acidity.
2006 BV Chardonnay Carneros Chardonnay - A lovely, elegant, medium-bodied wine you could bring as a gift to a special gathering, but keep one for yourself, too.
Villa Mt. Eden Winery 'Bien Nacido' Chardonnay Reserve Critics love it and you will too. The Wine Advocate gives it 92 points.
Tobias Chardonnay - Need a wine to bring to dinner? This is food friendly and very approachable (and at a great price). Crisp, fruity, and luscious Chardonnay, with a smooth minerality and hints of French Oak. Bring it for the holidays.
Wente Chardonnay Riva Ranch - When family matters, consider this legacy Chardonnay. The Wente family has been producing Chardonnay for more than 100 years. Rich, golden color, and aromas of ripe apple, vanilla, butter, and pear.
Shannon Ridge Chardonnay Lake County Thinking of a picnic on a cool autumn day? Here's a bottle you can unscrew, pour and enjoy. $14.99
La Crema Chardonnay 'Sonoma' A perennial favorite at an outstanding price point. On sale now for only $13.98 At this price, you'll want a case. Pairs well with crab, veal, or butternut squash. Date night?
McManis Chardonnay - This wine flies off the shelf because it tastes good and is under $10! Great to have in the fridge for "just because" nights.
Bogle Chardonnay - At less than a ten spot, this popular Chardonnay has a little "something for everyone." Wine Spectator gives it 87 points. We have it on sale for $7.99.
Order these wines right online and have them delivered to your door. Of course, we'd love to see you inside any of our locations. What are you looking for?