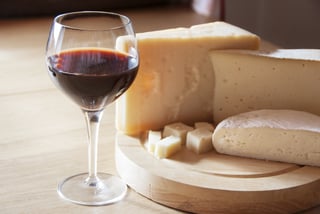 There is a typical French saying, La vie est trop courte pour boire du mauvais vin, which basically translates to "Life is too short to drink bad wine." And, when you have so many wonderful French wine options, you really don't have to drink anything that doesn't please the palate. The French know what they are doing – they produce some of the world's greatest wines, vying only with Italy as biggest wine producer globally. Wine (and food) are part of French culture and everyday life – and the rest of us get to benefit from it.
411 on French Wines
The entire country of France can be broken into regions as vineyards are throughout the land that borders quite a bit of water: the Mediterranean Sea, the North Sea, the Atlantic Ocean, the Rhine River, and the English Channel. These bodies of water greatly influence the climate of the regions, which in turn influence the grapes.
Three of the top and most beloved wine regions of France are Bordeaux, Burgundy, and Champagne, though some say there are seven primary regions and others say ten. We'll concentrate on the top three, but here's a quick look at the most popular wine regions throughout France.
Alsace
Bordeaux
Burgundy
Beaujolais
Champagne
Côtes du Rhone
Jura
Languedoc
Loire Valley
Médoc
Provence
Southwest
Top Three Wine Regions of France
Bordeaux
Located in southwest France, this is where mostly dry, medium-bodied reds are produced. The region is 80 miles inland from the Atlantic coast, where more than 10,000 wine producers are making bottles that range from everyday drinking wines to some of the world's most expensive and prestigious wines. Most Bordeaux wines are made from a blend of Cabernet and Merlot grapes.
Burgundy
The vineyards of this region cover a narrow slope in the eastern part of the country. While both reds and whites are grown here, it's the red wine that gets the most attention – some of these wines are known to age well at 20 to 30 years.
Champagne
The world's most famous sparkling wine comes from this most northern region of France, which experiences lower temperatures than other areas of the country. The primary wines used to produce Champagne include Pinot Noir, Pinot Meunier, and Chardonnay.
French Wine Terms
Appellation Contrôlée – There are more than 280 appellations in France. When you see appellation contrôlée on a label, it refers to a specific region where the wine was produced. It may also look like this: Appellation d'Origine Protégée (AOC/AOP).
Appellation d'Origine Contrôlée (AOC) – The highest quality level or ranking of French wines.
Appellation d'Origine Vin De Qualité Supérieure (AOVDQS) – High-quality French wine.
Vin de Table – This is table wine of France.
Vin de Pays (pronouced VAN deu pay YEE) – Refers to France's country wines and often are very good wines at affordable prices.
Founded in 1934, Haskell's has championed fine wines for over 80 years. We have 13 wine stores in Minnesota, two delis and one restaurant. As one of the top wine shops in North America, Haskell's is known for legendary service and one of the finest collections of wine, beer and spirits. Led by Chairman and CEO Jack Farrell, and the Farrell family, Haskell's continues to be at the forefront of the wine scene throughout the world. Haskell's also can ship wine, beer & spirits all throughout the world, the U.S. and we deliver locally.