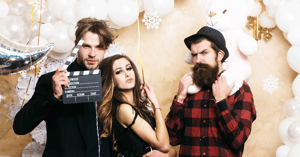 Are you ready for February's best occasion for making a big batch of drinks for a lot of people? No, we're not suggesting you turn your special date night Valentine's Day into a group event — we're talking about the Oscars!
The Academy Awards parties, fashion on display, and fancy Hollywood actors and actresses put us in a festive and creative mindset. You'll want to have that same vibe at your Oscars viewing party this year, so don't forget to plan your drinks to match the occasion.
If You're Offering Champagne at Your Oscars Party
Who doesn't love bubbly? Who can say no to the sparkling? We get it. Champagne screams classy party! (By the way, this is why we celebrate special occasions with Champagne.)
If you're set on serving Champagne at your Oscars party, we highly recommend a few things to keep in mind.
Use the appropriate

glassware

.

Serve Champagne in Champagne flutes for maximum visual effect of all those shiny, sparkling bubbles. You may also think of an iconic Great Gatsby image of Leonardo diCaprio toasting with Champagne in a coupe glass. Alternatively, the more experienced Champagne drinkers may find the subtle tastes more prominent when served in more rounded wine glasses such as Riedel's Champagne wine glasses.

Don't get stuck on specifically Champagne.

Champagne only comes from one region in France, but sparkling wines come from all over different regions of the world.

Find a sparkling wine

that suits your fancy.

Make sure you're prepared to

open that bottle of Champagne

carefully

— seriously!
3 Oscar Cocktails to Serve at Your Party
Celebrities and the bright lights of the silver screen may have you thinking Champagne … and that's certainly a good thought. However, this special February night we suggest you set aside the Champagne and offer these simple yet creative Oscar cocktails at your party.
Blackberry Bramble Cocktail Recipe
Ingredients:
2 oz. gin (we recommend 100 Mill Street Gin

)

1 oz. blackberry liquor

1 oz. simple syrup

1 1/2 oz. fresh lemon juice

½ cups fresh blackberries

lemon zest

4 blackberries for garnish

club soda

ice
How to make a Blackberry Bramble cocktail:
Place blackberries, gin, (optional) blackberry liquor, lemon juice, and simple syrup in a cocktail shaker.

Muddle the mixture until well mixed, then double strain (pour from cocktail shaker strainer through a fine mesh strainer). Ensure seeds are removed.

Add ice to four lowball glasses, divide mixture evenly.

Top each glass with a splash of club soda and garnish each with a blackberry and lemon zest.
The Rögg Collins Cocktail Recipe
Ingredients:
2 oz. gin (try

Far North Gustaf

navy strength gin)

½ oz. elderflower liqueur

1 oz. fresh lemon juice

lemon peel garnish

club soda

ice
How to make a Rögg Collins cocktail:
Pour gin, lemon juice, and elderflower liqueur into a cocktail shaker and add ice.

Shake thoroughly and strain into a highball glass filled with ice.

Top with club soda and garnish with lemon peel.
Mae Rose Cocktail Recipe
Ingredients:
1½ oz. gin (try Minnesota's

J. Carver gin

)

1 oz. dry vermouth (such as Dolin)

½ oz. Campari

½ oz. grapefruit liqueur

grapefruit twist garnish

grapefruit peel garnish
ice
How to make a Mae Rose cocktail:
Combine the gin, vermouth, Campari, and grapefruit liqueur in a cocktail shaker with ice.

Shake thoroughly until the mixture is very cold.

Strain it into a coupe glass and add a grapefruit twist garnish.
You're well on your way to a classy, creative, and fun Oscars party with great cocktails!