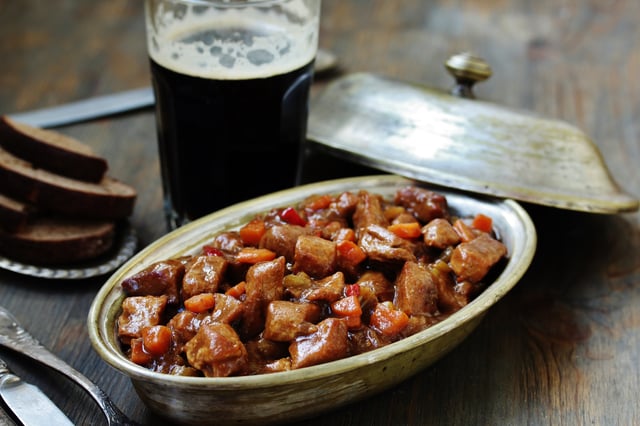 You don't have to drink green beer to celebrate St. Patrick's Day (if you do, we'll try not to judge you too much), but March 17th still offers a yearly opportunity to treat yourself to a tasty delicious Irish meal coupled with tasty spirits to warm your spirit! From traditional pairings to the new kids on the block, we've got you covered with the best Irish meal and drink combinations to serve up this St. Patrick's Day.
Corned Beef and Cabbage + Wine
Of course, the purists amongst us will be serving 'ye olde' corned beef and cabbage for St. Patrick's day, a now-classic combination with a distinct aroma that defines this Irish holiday for many people. One little-known historical fact is that this meat and vegetable combination originated in the United States! Early Irish immigrants often couldn't get their hands on traditional beef brisket, so they often bought corned beef as a substitute. While a splash of whiskey or Irish coffee may meet your needs, we recommend serving this meal with wine, in honor of its classic status.
This delicious, salty dish pairs perfectly with soft, white wines like Silver Beach Sauvignon Blanc or a La Forge Viognier. If you're going to have a red, try a Diamandes Cabernet Sauvignon
Irish Stews + Brews
Oh, Irish stews. Be it lamb, mutton, beef, or vegetable, a hearty Irish stew is just the thing to fill you up and help you shake off winter doldrums. Although stews pair nicely with a Bordeaux wine such as Chateau du Lort, you can also mix things up with a good ol' pint of beer. Because really, who can talk about Irish brews without mentioning Guinness?
Guinness is the oldest brewery in Ireland, with a Dublin-based plant that welcomes tens of thousands of tourists every year. A beverage unto itself, Guinness has a wide fan following, so if this is your drink of choice for St. Patty's, you'll be in good company.
Another popular Irish beer is called Smithwick's, an Irish red ale from Kilkenny known for its rich flavor. Can't decide? Why not try a stout over ale combo (also known as a Black and Tan)?
Brew Recipe: Black and Tan
Ingredients/Tools
Directions
Pour the ale into your pint glass.
Position the tablespoon with the concave side down and pour the draught over the back of it into the glass on top of the ale. (This should create a clear line between the liquids for the signature black and tan coloring.)
Fish and Chips + Whiskey
If you'll be enjoying fish and chips, a national Irish dish, you might enjoy trying out some Irish whiskey, the bell of the ball when it comes to Irish spirits. Although there's always the battle between Scotch versus Irish whiskey, the flavor and quality of Irish whiskey simply can't be overstated. In fact, in the United States prior to Prohibition, Irish whiskey outsold Scotch whiskey about fifty to one.
Demand for Irish whiskey remains strong and has boomed in recent years. A decade ago, three Irish distilleries made the majority of Irish whiskey, but today, there are over thirty. Have you heard of Tullamore, Bushmills, or Jameson? You can thank the Irish for these popular whiskeys. (Incidentally, Jameson was actually a Scotsman who married an Irish girl and began to produce Jameson whiskey!)
[Watch our overview on the 'Water of Life'... Whiskey!]
Whiskey Cocktail Recipe: Big Ginger
Ingredients/Tools
2 GINGERS Irish whiskey

(a Minnesota whiskey gone national!)
Ginger ale (for a Skinny Ginger, use diet ginger ale)
Collins glass
1 lemon
1 lime
Directions
Fill a Collins glass with ice.
Pour 2 parts

2 GINGERS® Irish Whiskey

.
Top up the glass with ginger ale.
Wedge with both lemon and lime for a citrusy finish.
Whiskey Cocktail Recipe: Blarney Stone Cocktail
Ingredients
1/2 tsp. Triple Sec
2 ounces Irish whiskey
1/2 tsp. anise
1/4 tsp. maraschino liqueur
Cocktail glass
1 olive
1 twist orange peel
Directions
Shake Irish whiskey, anis, triple sec, and maraschino with ice and strain into a cocktail glass.
Add the orange peel twist, top with the olive, and serve.
Remember: on the 17th of March, everybody is Irish – whether you enjoy a glass of Guinness, a shot of old Jameson, or you just going to kick back and have a glass of wine! As you plan out your St. Patty's Day sustenance, you can always get advice from the friendly team at Haskell's. We're always happy to talk about food and beverage combinations to please your palate!