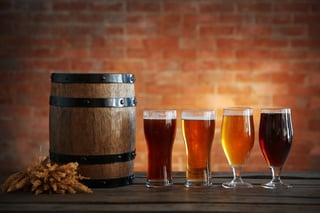 We often write about Minnesota craft beers. Why? Because so many are truly well-crafted, rooted in tradition – and, most importantly, great to drink. Isn't that what a good beer should be, thirst quenching good?
When we are asked for our thoughts on Minnesota's best brews, we can offer our take on some of our favorites and some of the top sellers. But ultimately, after our craft beer reviews, we leave the final decision to you. After all, everyone's tastes differ and there is no right or wrong when it comes to what hops make you happy. But we do have some opinions to share.
Here are out thoughts on some of Minnesota's best brews:
Lift Bridge – For those who love hops, check out Hop Dish (7.5% ABV) or the highly drinkable Farm Girl (5.8% ABV). Read our Lift Bridge blog.
Fulton Brewery – A standout IPA to check out, Sweet Child of Vine IPA (6.4% ABV). Find out what else these folks produce by reading our blog on Fulton.
Summit - We love this American IPA, Summit Sága IPA (6.4% ABV).
Here's more in our blog about Summit Beer.
St Croix Brewery – The Cream Ale is crisp, smooth. and nicely refreshing (5.2% ABV). We love it and so do the critics. The Cream Ale was voted as "exceptional."
Bauhaus Brew Labs – We love all four of their core brews, but their hoppy amber lager, Wagon Party (5.4% ABV) is one worth hopping on the party train for. Read our Bauhaus blog.
Indeed Brewing Company – There's some fine beer brewing in Northeast Minneapolis, Indeed. Let It Ride American IPA (6.8% AVB) is a favorite. Read more in our blog on Indeed Brewing.
Insight Brewing – Another high-quality brewery in Minneapolis. Try their Troll Way IPA (7.0% ABV), a Citrus IPA with hints of grapefruit, peach, and lemon zest.
On the rise is Able Seedhouse & Brewery, also in Northeast Minneapolis. They are focused on locally grown seed, grain, malting and brewing. Good stuff, but not yet available in retail stores.
And, of course, we couldn't mention Minnesota craft beers without Surly. These guys came on the scene and made beer magic with Furious (6.2% ABV), their nationally-known American IPA. We have the story behind the beer in our blog on Surly Brewing Company.
Are these the only players in town? Of course not. But it's a good list to start exploring the many rock stars of beer brewing in our great state. What's your favorite?