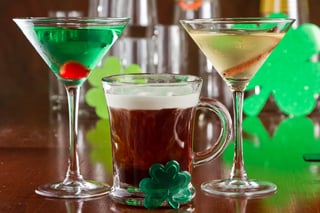 You don't have to drink green beer to celebrate St. Patrick's Day. We won't judge you if you do, but there are some fun cocktails to consider when you are ready to celebrate ole Saint Pat. In fact, you don't even have to be Irish. Just put on some green and bring some spirit to this day of revelry.
When it comes to Irish spirits, it's about all about the whiskey. We came up with a four-leaf clover full of best bets for Saint Patrick's Day cocktails – with Irish whiskey, of course.
2 GINGERS Irish whiskey was started right here in Minnesota and has gone national. Celebrate this whiskey's Irish roots.
Directions:
Fill a Collins glass with ice
Pour 2 parts 2 GINGERS® Irish Whiskey
Top up with ginger ale
Wedge with both lemon and lime
*For a Skinny Ginger, use diet ginger ale

Ingredients:
2 parts Irish whiskey
¾ parts Orange Curacao
½ parts sherry
1 dash Triple sec
1 dash Cointreau
Ice cubes
Fill a mixer glass with ice, pour Triple sec, sherry, Orange Curacao, and Irish whiskey into the glass. Stir together, then strain into the cocktail glass. Garnish with orange peel
Ingredients:
1/2 tsp. Triple Sec
2 ounces Irish whiskey
1/2 tsp. Anis
1/4 tsp. Maraschino Liqueur
1 olive
1 twist orange peel
Shake Irish whiskey, Anis, triple sec, and maraschino with ice and strain into a cocktail glass. Add the twist of orange peel, top with the olive, and serve.
Ingredients:
3/4 ounce Drambuie
1 ounce Irish Whiskey
1/4 ounce triple sec
Juice of 1/2 lemon
Ginger ale
Lemon twist for garnish
Pour the whiskey, Drambuie, triple sec, and lemon juice into a cocktail shaker filled with ice. Shake until the tin is frosted, strain into a rocks glass filled with ice. Add a splash of ginger ale and garnish with a lemon twist.
Ingredients:
3/4 cup Demerara or other raw sugar
40 ounces boiling water
One 750-ml bottle Irish whiskey
Strips of zest from 6 lemons
6 thin lemon slices, each studded with 4 cloves, for garnish
Pinch of freshly grated nutmeg, for garnish
In a heatproof bowl, muddle the lemon zest with the sugar. Let stand for 1 to 2 hours. Muddle again, add 8 ounces boiling water and stir until the sugar dissolves. Strain into a warm heatproof bowl and stir in the whiskey. Add the remaining 32 ounces of boiling water and garnish with the studded lemon slices and nutmeg.
Founded in 1934, Haskell's has championed fine wines for over 80 years. We have 11 wine stores in Minnesota, one deli and one restaurant. As one of the top wine shops in North America, Haskell's is known for legendary service and one of the finest collections of wine, beer and spirits. Led by Chairman and CEO Jack Farrell, and the Farrell family, Haskell's continues to be at the forefront of the wine scene throughout the world. Haskell's also can ship wine, beer & spirits all throughout the world, the U.S. and we deliver locally.