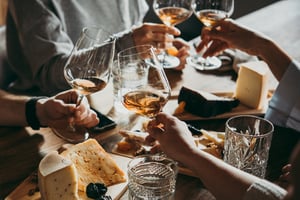 You like wine — trying different wines, serving different wines, telling your friends about wines — but now you want to try something for yourself: hosting a wine tasting party.
If this describes you, chances are you've attended a wine tasting event at a liquor store or winery, where a sommelier educated you on several types of wines and told you what scents and tastes to expect from each. Not only are wine tastings fun and easy ways to try a variety of wines you may not have sampled before, but they are also good opportunities to learn about wine, how to describe wine, and how to find new wines you may enjoy.
But how exactly does one host a wine tasting party? We'll share the basic tips you need to know to plan your very own wine tasting at home.
Tip #1: Focus the wine tasting on a theme.
Pick a region or a country, and have everyone bring a bottle from that location. For example, many quality wines are available from Napa Valley, California; Willamette Valley, Oregon; Bordeaux, France; or Tuscany, Italy. For interesting regions around the world, you might opt for wine-producing countries such as Argentina, Australia, Chile, Greece, South Africa, or Spain.
One of our favorite ways to taste wines? Pick a specific varietal, like Cabernet Sauvignon, Chardonnay, Pinot Noir, Malbec, Cabernet Franc, or more obscure varietals.
Bonus planning tip: Recommend a price range if guests are bringing a bottle to share ($15–$20 or $25 is a fine, affordable range for a variety of options).
Tip #2: Curate your guest list like your wine list.
Let's be honest: some of your friends don't care about tasting different wines — they just want to drink whatever's in front of them. Fair enough — but this isn't that kind of get-together. You're creating an intimate event for a small group of your friends to enjoy each other's company while featuring wine.
Choose which guests you invite and how each person will add to the experience or potentially distract from it. Don't be afraid to keep it intimate yet fun, 8–12 people is often sufficient to provide a comfortable, energetic feeling.
Tip #3: Set the table, set the tone.
Don't overlook the simple but important task of setting up your table with a few basics to help your wine tasting party go smoothly:
A spit bucket (a necessity if you want to taste a lot of wines with your best faculties available)
Bland bread or crackers to cleanse the palate and keep a fair backdrop for each wine to shine
Water for each guest to drink and clean out their wine glasses between different pours
A white tablecloth will help tasters see the precise hue of each wine more clearly
Go above and beyond by providing notecards with a list of the five components of wine tasting:
color
nose
aroma
taste
aftertaste
Allow your guests to take notes for each type of wine and rate their favorites. It could be fun to compare your favorites with other friends, too.
Tip #4: The wine is what makes your tasting party a winner.
Make sure you have the wines ready to go, or make sure each guest is bringing a bottle to share for the best wine tasting party variety. If you want a light tasting, you may be content with only half a bottle per person, though you will likely want to have more to satisfy your crowd. A minimum of eight or ten different wines will make for a far more interesting tasting than only three or four bottles.
If you have access to different wine glasses, use them. The closer your glassware is to the specific shapes intended for each different wine varietal, the better each wine will taste. Set out the wine glasses fitting the wines you'll be serving, even if it's only glasses for white wine and glasses for red.
Tip #5: The right food is fantastic with wine tasting.
Be sure your guests have plenty of savory sustenance to nibble on while sampling all these great wines. More experienced wine tasters will suggest you eat a meal after tasting the wines so the flavors don't distract you from tasting each wine's characteristics in their fullness. Either way, we can help with that: the Big Cheese puts together perfect assortments of familiar and unique cheeses, crackers, prosciutto and cured meats, and other wine-friendly foods. And yes, we deliver.
Want quick and easy options to make your wine tasting happen? There's no need to be stuck or confused. We're here to help you pick wines to fit your theme and guests' preferences. Email service@haskells.com to learn more about our concierge services, whether it's for your few friends or a few hundred people at a special event.
Want to take your wine tasting on the road? Check out these great Minnesota wineries and grab a group for some serious Minnesota fun.