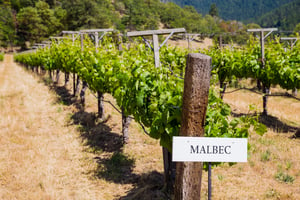 You've probably heard someone rattling off the wine list at a restaurant or mention their favorite types of wine. You're familiar with a lot of names they mention: Cabernet Sauvignon, Chardonnay, Merlot, Rosé — but one of the names makes you wonder: Malbec. Is Malbec wine, a philosopher you missed in Psych 101, or an obscure cat name from the Internet?
If you haven't tried it yet, Malbec is a red wine well worth your time. Here's what to expect.
Malbec Wine Flavor at a Glance
Though you may find the Malbec grape in a rare blend, rosé, or dessert wine, you'll most often find Malbec as a bottle of red wine.
Pour a glass of Malbec, and the first thing you'll notice is the rich, inky, purple-red hue. A little lighter body than Cabernet Sauvignon and a smidge less sweet than Italian Chianti wines, Malbec offers ripe berry treasure — think plump cherries, blackberries, and succulent plums for good measure.
Some in the wine industry might call this dry, medium- to full-bodied, and medium- to high-tannin and acidity. A few Malbecs might lean a little more into oak aging, cocoa, coffee, tobacco, leather, and black pepper notes, which will give a smokey or spicy distinction to the wine. Sommeliers and aficionados in a wine tasting might call the standard Malbec flavor profile "jammy." You will call it "delicious."
Where is Malbec Wine From?
Malbec grapes hail from — surprise, surprise — France, in the Bordeaux region. Considered one of the big varietals most commonly grown, Malbec is used in blends but not exactly given the attention it merits.
Enter Argentina, where some say up to three-quarters of the world's Malbec creation is located. A few other countries have picked up on it and grow Malbec as well, including the United States, Chile, and Australia.
When Should You Drink Malbec?
When you want a jammy red wine without breaking the budget, Malbec wine might serve you better than a more spendy Cabernet Sauvignon or Syrah. Since it's a little more affordable, you can get a few Malbec bottles to pair with dinner this week.
The medium- to full-bodied berry notes and dryness can stand up to a juicy, red meat dish and spicy Mexican, Indian, or Thai food with savory accents. Cumin, mushrooms, and funky bleu cheese are strong flavors, but Malbec can tango with them and hold its own. Also, drink Malbec with barbecue, chili, stew, and sausage — if you're feeling adventurous, try with lamb, game, or swordfish and tuna.
Pro tip: When you're serving Malbec, put it in the fridge for 30 to 60 minutes before you pour into the wine glasses, which hopefully have wide bowls. The slightly under room temperature (below 70 degrees) will provide you and your guests the optimal Malbec flavor profile.
The world of wine is a fun one to explore. Now that you know a little about Malbec wine, swing by the Haskell's nearest to you and we'll help you find the perfect Malbec for your simple dinner tonight or next weekend's get-together.