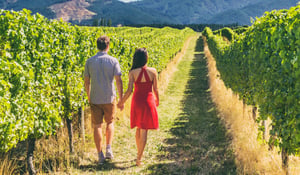 It's no secret that Minnesota has grown to produce lots of craft beer — and we're getting attention around the nation because of it. But let's not leave out a growing scene that has roots all around our fine state: Minnesota wineries.
You may think that the north Midwestern climate is too cold and often too humid to grow grapes like the world-renowned vines in dry, arid climates like Italy, France, California, and Argentina. Though our colder climate is harsh for many grape varieties, thanks to the research and perseverance of the University of Minnesota, we are ripe for a few cold-hardy hybrid grape varieties. That includes one of the state's most important grapes: Frontenac.
But are they any good? We say the best way to find out is to drink Minnesota-grown wines for yourself and see what you enjoy. There are a surprising number of wineries across our state to choose from. Work your way through Haskell's custom-made ultimate list of Minnesota wineries, and you'll find many unexpected varieties based in scenic locations around our beautiful state.
Explore the Best Wineries in Minnesota, One at a Time
Start with a few reliable local favorites and up-and-comers included on our Minnesota wineries map:
Alexis Bailly Vineyards in Hastings is the state's oldest winery, having produced fine wine for more than 40 years.
Carlos Creek Winery in Alexandria features live music on summer weekends, outdoor games, and wood-fired pizzas as well as their lineup of wines.
Parley Lake Winery in Waconia boasts more than 50 gold medals in international competitions, plus a variety of pop-up food options.
Wild Mountain Winery in Taylors Falls features lots of events, including a costume party, grape stomp, cheese and chocolate weekends, and live music and dances.
7 Vines Vineyard in Dellwood welcomes guests with a wide terrace for outdoor relaxation and a building of detailed woodwork and elegant rustic flair that's perfect for private events and weddings.
Warehouse Winery is located in Minneapolis, so you don't even have to venture out of the Twin Cities to find some wine in stylish digs.
At Haskell's, we highly encourage you to visit these MN wineries, take in the vineyard sights, and sip lots of different grape varietals to get a sense of the Minnesota wine palate. If you need to save time, take the shortcut: browse local wines instantly by shopping online or visiting any of our Haskell's locations around the Twin Cities.
Suggested Itineraries to Visit Minnesota Vineyards and Wineries
Hit the Waconia Jackpot: Since they're so close, plan a day to visit Schram Vineyards Winery, Parley Lake Winery, Deardoff Orchards and Vineyard, and The Vineyard at Sovereign Estate. Bonus: Venture up to Woodland Hill Winery in Delano and Buffalo Rock Winery in Buffalo.
Follow the River: Start with Cannon River Winery in Cannon Falls, followed by Falconer Vineyards and Flower Valley Vineyard & Winery in Red Wing, then Lake Pepin Winery in Lake City.
Save this Haskell's List of Minnesota Wineries on Google Maps to use on your next wine tasting adventure.
Haskell's Ultimate List of Minnesota Wineries
More ways to discover Minnesota's local wines and vineyards
Still have questions about Minnesota wines? Visit any of our Haskell's locations, and one of our experts will have the answers. You might be able to stump us about math or history, but wine is our favorite subject!