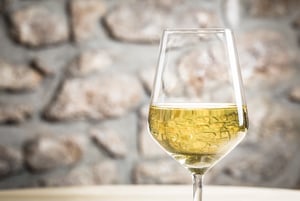 Cabernet Blanc, Syrah, Pinot Grigio, Tempranillo, Malbec, Muscat — wait, what's a muskrat doing in a lineup of wines?
All kidding aside, Muscat wine may not be the most recognized varietal in your neighborhood, but that doesn't mean it's not worth a spot in your rotation. You've probably heard of Moscato or Moscatel — yes, the same grapes — but withhold your judgment long enough to learn what there is to appreciate about Muscat wine.
A Brief Overview of Muscat Wine's History
Like many a grape varietal, Muscat wine's humble story begins in France — the Muscat Blanc à Petits Grains grape family, to be precise. These small grapes have grown in the Southern Rhone Valley of France and gained popularity among wine drinkers in the 1990s. Muscat Blanc à Petits Grains grapes are related to those used to produce wines including Moscato d'Asti in Italy, Grüner Veltliner in Austria, Rutherglen Moscato in Australia, and Vin de Constance from South Africa.
Some believe Muscat Blanc à Petits Grains grape vines were brought by the Romans from Italy to France 2,000 years ago, or possibly by the Greeks from their vineyards near the Mediterranean Sea. The small grapes are light brown, pink, or red, and are sometimes used to make raisins. Unlike many other sweet wine grapes that are picked late in the harvest, Muscat grapes are often picked first in the season. "Muscat wine is the one that sincerely tastes like the grape," you might overhear some people say at wine tastings or dinner parties.
What Does Muscat Wine Taste Like?
Muscat wines are generally on the low side in acidity, tannins, and alcohol. Clean to syrupy, golden sweetness is the name of the Muscat game. Sometimes, they're a bit dry, but there's no need to be ashamed if you like it really sweet. Muscat wine is here to be your dessert accomplice.
A few options for you:
Pro tip: Don't confuse Muscat and Moscato for the dry, savory white wine Muscadet. Totally different. But you might want to try (and even buy) both.
Foods to Pair With Muscat Wine
With so much fresh, light sweetness in the Muscat wine family, think rich foods and dessert. Consider a variety of foods that match or complement the textures of whatever specific Muscat wine you've picked out.
Pairing suggestions with Muscat wine:
Feeling fancy and French? Serve pâté and a funky bleu cheese for snacks with Muscat wine as an aperitif.
Eating spicy Thai or Indian food? You may be surprised at how soothing the sweetness of Muscat can be next to intense spice and flavors.
Serve a rich berry-topped cheesecake and wash it down with a glass of Muscat.
Some Muscats are more viscous, meaning their body may drink like it's almost thick and creamy or raisiny. Try this Muscat with vanilla and caramel ice cream topped with baked apples.
With Muscat wine, you're in for a world of dessert bliss. Definitely serve it all chilled. Enjoy!