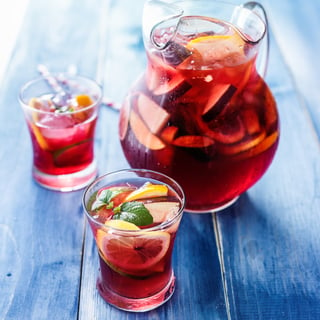 Wine is made from grapes, right? So, it makes sense that wine works with other fruit as well. Add fruit and wine and you have summer in a glass – or pitcher – and we have one word for it: refreshing. We've found five refreshing wine recipes with fruit that take advantage of inexpensive wine, or perhaps wine that you're not necessarily fond of but seem to have extra bottles of on hand – perhaps thanks to recent guests who brought their favorite "cheap wine find." We say every wine has a purpose, so why not use that wine to make a killer wine cocktail?
Let's start with a few sangria recipes.
Sangria is a popular Spanish drink, typically made with red wine, fruit juice, and fresh fruit – and spiked with brandy – though there are recipes for both red and/or white wine. While Spaniards enjoyed this fruit-infused concoction for centuries, it was formally introduced to America at the 1964 World's Fair in New York City.
As an added bonus, these recipes are perfect for a party, because they can be made by the pitcher. Enjoy!
This recipe uses a dry white wine.
Ingredients:
In a saucepan, cook the sugar and water until the sugar dissolves; transfer to a pitcher and refrigerate until cold. Stir in the Grand Marnier, wine, mango, peaches and mint, and serve over ice.
This classic Sangria requires red wine and some patience. You'll want to make this the day before your party!
Ingredients:
Combine the wine, apple juice, and grapefruit pieces in a large pitcher. Mix well, cover and refrigerate overnight. The following day, add the orange and lemon slices to the wine. Refrigerate for a further 3 hours. Add the pear and apple to the mixture, then allow to stand for a further 1 hour to absorb the flavor fully. Mix well and serve over ice.
This mouthwatering wine and fruit cocktail is special crafted for summer, replacing brandy with vodka, and focusing on watermelon.
Ingredients:
In a blender, puree the watermelon cubes. Pour through a fine strainer into a pitcher. Add the white wine, vodka, Cointreau and Citrus Syrup. Stir and refrigerate for at least 2 hours. Stir again, then pour the sangria into ice-filled white wine glasses and garnish with the skewered watermelon balls.
The cool taste of fresh summer fruits, with a nice pop of mint - sip this cocktail while you soak up the sun.
Ingredients:
Bring the wine and sugar to a boil in a small saucepan, stirring until the sugar is dissolved. Boil for 2 minutes. Remove from the heat. Chop and combine the cantaloupe, strawberries, grapes, and mint in a large bowl. Pour the warm wine mixture over; toss to coat. Cover and refrigerate until cold, stirring occasionally, at least 2 hours. Transfer to the fruit mixture to a wide jar with a tight-fitting lid. Keep chilled.

Any seasonal fruit can be added to this summer wine punch. Call this your go-to party punch. No cooking, no pureeing, just combine ingredients and serve.
Ingredients:
In a punch bowl or large glass container, combine chardonnay, Grand Marnier, and orange, lime, and lemon juices. Add the sliced fruit. Serve ladled over ice.
Watermelon Plata Tequila Cocktail
This watermelon, blueberries and mint tequila cocktail is definitely worth sipping – and sharing.
Ingredients:
Puree the watermelon in a food processor until smooth. Strain the juice into a bowl pressing on the pulp, then discard the solids. Put the simple syrup, lime chunks, berries and mint in a pitcher and muddle until the berries are slightly crushed. Add the tequila and watermelon juice and stir to combine. Refrigerate until cold, at least 1 hour. Serve over crushed ice, garnished with mint sprigs.
*To make simple syrup, put 1/2 cup of water in a small saucepan and bring to a boil over high heat. Whisk in the sugar and cook until the sugar is completely dissolved. Let cool. Simple!