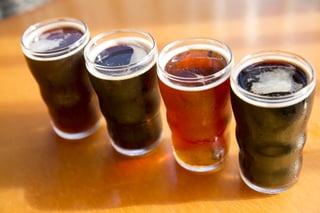 In case you lost track, Father's Day is coming up on Sunday, June 21st. Yes, the actual date changes year to year, but the sentiments remain the same – and it's always on the third Sunday in June. It's a day to say thanks to dear old Dad for doing what he does to make life better. Sure, the obligatory tie that never gets worn is always an option but you're an adult, why not say thanks with beer he'll love and you'll get to share with your pop? So, if you'd like a gift that Dad can enjoy – and you can enjoy with him – here are some suggestions for craft beer baskets that Dad will love.
How to create a perfect Father's Day Craft Beer Basket: Theme it.
Is your Dad a St. Paulite who loves everything about the Capital City? Show him you care with a Summit Basket of Love.
The Outdoorsman: if your Dad is all about nature, canoeing, or perhaps just being "up North," then a Bent Paddle Craft Beer Basket is the way to go. Grab a few six-packs, some fishing line, a fishing hat and encourage him to off his phone for a day.
The Silent Type – Germanic? We've got you covered. Mix it up with a variety of beers from Minnesota's first brewery, Schell's — especially great if your Dad is a classic Minnesotan.
Traveling Man - pick up a few 750 ml bottles of Belgian ale. Here's a way to knock the socks off your pop with variety of Belgian styles of beer like an Abbey Ale, Dubbel, Tripel or perhaps a popular sour like Lambic.
Of course, we are firm believers in the "keep it simple" school of thought. Let us do the work for you. We have a variety of baskets from which to choose that you can order at our stores.
Top off any of your baskets with a Haskell's Gift Card, the gift that says, "Dad, I love you. Take some time to yourself and pick out a bottle of the good stuff."
Founded in 1934, Haskell's has championed fine wines for over 80 years. We have 13 wine stores in Minnesota, two delis and one restaurant. As one of the top wine shops in North America, Haskell's is known for legendary service and one of the finest collections of wine, beer and spirits. Led by Chairman and CEO Jack Farrell, and the Farrell family, Haskell's continues to be at the forefront of the wine scene throughout the world. Haskell's also can ship wine, beer & spirits all throughout the world, the U.S. and we deliver locally.