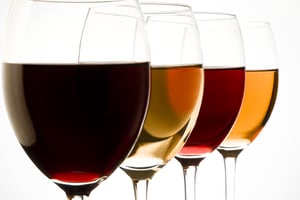 Wine is a never-ending universe of different flavors from different places. You could keep trying different wine varietals every week and for every occasion and still not get to the bottom of all that the world of wine has to offer.
But let's not be shy about experimenting and sampling and exploring a few corners of wine varietals we've never tried — let alone heard of.
Wine is produced in all sorts of little pockets around the world. Don't get us wrong — we love the classic French and Italian and Californian works of wine genius. We should also, though, be willing to try wines from strange, lesser-known, and unexpected regions. Whether you're a big traveler or enjoy staying close to home, here are some rare varietals to try.
For the Cognac-Appreciators: Cotes de Gascogne
Yes, the French have a commanding foothold in the realm of historic and high-quality wine. Few and far between, however, are those who've swirled and sipped Cotes de Gascogne, a refreshing white wine made from Ugni Blanc and Colombard — varietals best known for producing Cognac.
For Earthy, Fall Dishes: Tilia Bonarda
Hunters and forest-lovers understand the appeal of earthy tones and gamey flavors of venison and mushrooms from the forest floor. Why not pair those with dark fruit, black raspberry, and plum notes in a wine that's as delicious as it is affordable? Go for Tilia Bonarda for your woodsy, cozy meals this fall.
Sail Beyond Port: Touriga Nacional
If you've had a few glasses of sweet, syrupy port wine, you may have consumed Portuguese grapes. Well, they have more than just port from the coastal nation. Altano Douro will serve up high tannin, large body, fruity, and rich red wine characteristics to pair with your savory, garlicky Mediterranean feast and much more.
Dessert is Served: Kourtaki Mavrodaphne
No, it's not the name of a famous Greek supermodel. Kourtaki Mavrodaphne of Patras comes from wine varietals that offer a deep, red hue and succulent raisin and date flavors that pair with a decadent chocolate dessert. Grab a bottle if you want to channel your own big, fat, Greek meal complete with sweets and wine to match.
Cool Off: Bascou Picpoul de Pinet
Let's rest the taste buds and refresh from intense food and wine varietals. A clean, crisp, floral white wine is in order, so get a bottle of Bascou Picpoul de Pinet. This is your daytime wine, which also pairs with seafood, shellfish, and shrimp with garlic sauce.
Smoked Apple Twist: Boisset Bourgogne Aligoté
You may have heard hints of or tasted sips of Aligoté wine, but this one you won't be able to forget if you tried. Boisset Bourgogne Aligoté is a Burgundy wine that can age for five to eight years and deliver an intriguing mixture of bright apple, pear, and grapefruit with a subtle smokey texture.
The Spanish/Portuguese Underdog: Mencía
Pinot Noir-aficionados, listen up: book a metaphorical trip to Spain and Portugal by opening a bottle of Mencía red, which offers cherry, pomegranate, and subtle black licorice notes and medium-high acidity and tannins. Serve a bottle of Mencía with savory meat dishes and smooth to rich cheeses, and say adios to the world of bland, typical wines from common wine varietals you simply won't want anymore.
See? The world of wine is vast and flavorful! Don't limit yourself to the same wines week after week. Change it up and try something new from a different corner of the world.