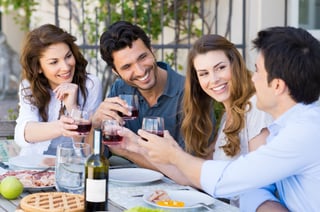 It might not be an age-old problem, but we do get plenty of questions about storing wine. Why, when, and how should one age wine? There are plenty of thoughts on this topic, but let's start at the top. To age a wine simply means you intend to store the bottle in a cool, dark place (like a cellar - hence, the term cellaring) for a number of years, with the goal of improving the quality of wine as it matures. Sounds simple enough, but it's not. Let's separate fact from fiction.
1) All wine improves with age.
False: Most wine is produced to be consumed within five years. That doesn't mean wine will spoil or expire if you don't; however, you will want to ensure proper storage. Keep your wine bottles out of sunlight and in a cool area. Store wine in a low-light area at an ideal temperature of 55-degrees Fahrenheit. Our Minnesota "root cellars" make great wine cellars.
2) Older is better.
Subjective: Some people prefer the taste of young, fresh wines, while others prefer the taste of older, more mellow, silky wines. It comes down to preferences, and we all have our own. An aged white may be described, for instance, as complex, rich, honeyed, and nutty, while an aged red might be described as earthy, subtle, silky.
3) Only red wines age well.
False: Most white wines taste best young; however, premium full-bodied whites including some California Chardonnays are worthy of aging.
Often, aging a wine is for a personal reason, as well as a goal of improving a wine's quality. If you are ready to try cellaring a wine, consider the acidity, tannin, sugar level, and alcohol level. Here are some basics.
Wines with a higher acid level tend to taste better as they age.
Like acid level, high tannin reds will taste better as they age.
Wines with a high residual sugar tend to age well.
Wines with an alcohol level of 13.5 percent or lower traditionally last longer.
Key points to storing wine include temperature control, humidity control, and lack of UV light.
Reds that age well
Whites that age well
Riesling, German Spatlese, Auslese, and Beerenauslese
Sauvignon Blanc/Semillion, White Bordeaux in the Graves Region of France
Pro Tip: Consider purchasing a case of a special wine that means something to you. For instance, from a particular region that holds a fond memory. Store the case in a cool, dark cellar, and each year, open one bottle on an anniversary of something dear to you. Enjoy the wine, take notes on its smells and tastes. One of the most beautiful things about enjoying a glass of wine is the romance and nostalgia it brings. And, for that, we say cheers.
Want to learn more?