Spring Dishes for a Wonderful White Wine
Spring. Crisp, fresh air. New beginnings. Youth. Those are also terms of endearment that some use to describe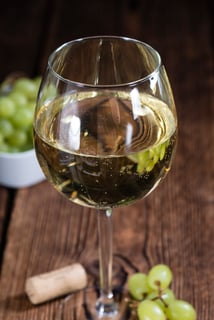 Sauvignon Blanc – a wine that likely takes its names from the French words sauvage (wild) and blanc (white). While the grape originates from the Bordeaux region of France, this green-skinned grape is now successfully grown around the world — Loire Valley (France), Graves (Bordeaux, France), New Zealand, California, and Chile, for instance. And, because of the many areas it is grown, the ripeness of the grape when picked, and how the wine is produced, you'll find a range of flavors.
How Dry?
Sauvignon Blanc —also known as Fumé Blanc — is most often made completely dry, though some producers, especially in California and New Zealand, may leave some residual sugars to create a richer texture.
Celebration Time
It could be called the Wine of New Zealand. This grape/wine is so important to New Zealand that organizers will hold the first International conference in Marlborough to celebrate Sauvignon Blanc next February. Meanwhile, April 24, 2015 is the date to celebrate this wine everywhere with #SauvBlanc Day!
Eat and Drink
Enjoy Sauvignon Blanc slightly chilled. It pairs well with soft cheese and spring dishes including salads — which can often be tricky to pair with wine.
Cheese Pairing:
Mozzarella
Feta
Goat
Ricotta
Swiss
Ingredients
4 large eggs
Four thin slices of peasant bread (or day old bread), torn into 1-inch pieces
1/4 cup plus 2 tablespoons extra virgin olive oil, plus more for brushing
2 pounds fat asparagus, peeled
1/4 cup red wine vinegar
Salt
Freshly ground pepper
2 cups packed young mustard greens or chicory
1/2 small red onion, thinly sliced
1/4 pound ricotta salata, thinly sliced and crumbled
1 watermelon radish or 2 large red radishes, very thinly sliced
Preheat the oven to 350°. Put the eggs in a saucepan of water and bring to a simmer over moderately high heat. Simmer for 6 minutes. Drain the saucepan and fill it with cold water. Crack the eggs all over and let stand in the water for 1 minute. Peel and thickly slice the eggs; the yolks will be barely cooked but not runny. Spread the bread pieces on a baking sheet and brush lightly with olive oil. Bake for about 12 minutes, until crisp. In a large pot of boiling salted water, cook the asparagus until just tender, about 3 minutes. Drain, cool, and cut the asparagus in half lengthwise. In a small bowl, combine the 1/4 cup plus 2 tablespoons of oil with the vinegar; season with salt and pepper. In a large bowl, toss the asparagus, toasted bread, greens, onion, and cheese. Drizzle with the dressing and toss. Garnish with the eggs and radish.
Ingredients:
2 cups (about 1/2 lb.) sugar snap peas
1/2 pound dried capellini pasta (or any shaped pasta)
1 clove garlic, minced
2 tablespoons butter or olive oil
1 tablespoon finely slivered lemon peel
3 to 4 tablespoons lemon juice
1/3 cup slivered fresh mint leaves
1/2 cup crème fraîche or sour cream
Salt and freshly ground pepper
In a 4- to 5-quart pan, bring 2 to 3 quarts of water to boiling over high heat.
Meanwhile, pull off and discard stem ends and strings from peas. Rinse and drain.
When water boils, add pasta, pushing down into water. Cook until almost tender to bite, about 3 minutes. Add peas and cook until they turn bright green, about 2 minutes. Drain peas and pasta well in a colander.
In the pan, combine garlic and butter over high heat, stirring until butter melts. Add peas and pasta, and mix until pasta stops sizzling, about 1 minute. Add about 2 teaspoons of the lemon peel, 2 tablespoons of the lemon juice, and about 1 tablespoon of mint to pan. Mix. Put pasta mixture in wide soup bowls, swirling to make a well in the center. Spoon crème fraîche into center of bowls and sprinkle with remaining peel, mint, and lemon juice. Add salt and pepper to taste.
Pour a nice glass of Sauvignon Blanc and enjoy!
Founded in 1934, Haskell's has championed fine wines for over 80 years. We have 13 wine stores in Minnesota, two delis and one restaurant. As one of the top wine shops in North America, Haskell's is known for legendary service and one of the finest collections of wine, beer and spirits. Led by Chairman and CEO Jack Farrell, and the Farrell family, Haskell's continues to be at the forefront of the wine scene throughout the world. Haskell's also can ship wine, beer & spirits all throughout the world, the U.S. and we deliver locally.