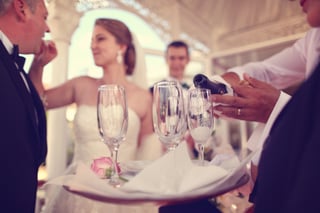 It's the time of year when love is in the air and wedding bells are ringing. It's also a busy time for bridal parties as they plan the special day. There are many checklists to compile and one area we can certainly help with is ensuring you have the perfect wine to toast the newlyweds. So, here are our time-honored tips on how to choose wine for a wedding.
Before you pick the wine, here are a few things to consider:
Budget
Every wedding comes with a budget. Look at what you wish to spend for wine and champagne (for the toast).
Guest list
How many adults will be in attendance?
What foods will you be serving?
Fish and seafood or rich meats and cheeses? Just like any other meal or party, it's important to match the wine to the food.
Summer wedding?
Guests at outdoor summer weddings tend to drink more white wine than red.
What wines to pick:
We recommend keeping it simple. Select one white, one red, and one sparkling wine. For a summer wedding, add a dry Rosé to the mix. Select a regional favorite. If the couple has a connection to California, France, or Italy, for instance, consider wines from those areas.
Make it extra special with a custom label.
Consider a special custom wine label with the newlyweds' name and wedding date on the bottle. It's only $19.99 per bottle, including label, wine, and gift box. And a volume discount is available. The more you order, the less it costs. Find out how to order yours by contacting Haskell's Wines and Spirits Concierge Services (service@haskells.com or 612-333-2434 ext. 950).
How much wine to order:
It's always better to have too much wine than too little. By using a formula, then perhaps adding a few extra bottles, you and your guests should be happy.
A general rule of thumb is one drink per person per hour of your reception, but you can get more specific (factoring in light or heavy drinkers) by using an alcohol calculator to help estimate how much you'll need.
Here are two calculators that we recommend:
Cheers!