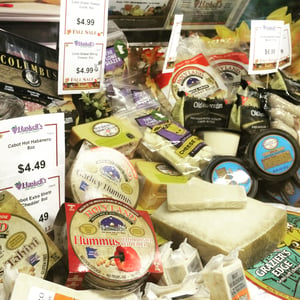 So, what comes first, the wine or the cheese? Like many Facebook relationships, it's complicated. We went right to the big cheese at The Big Cheese for a few answers. Her name is Jan, and she's been working with Haskell's for a mere 29 years. So, here's here ultimate guide to pairing wine and cheese.
Jan says it's best to start with the wine and go from there. "There are literally hundreds of cheese options, so pick your favorite wine and we'll help you pair them with the perfect cheese."
Remember, though, it's not a test. Have a great cheese and now need a perfect wine? We can help you with that, too.
Let's look at a few ideas to make your ultimate guide to pairing wine and cheese.
Opposites attract – or the same like the same. Either or, when it comes to wine and cheese, the best strategy is to keep it simple.
It's apple harves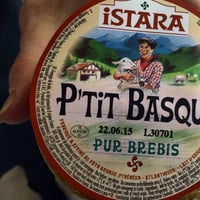 t time, and while apples aren't the easiest to pair with wine, we have a few ideas. Let's consider a Minnesota favorite, the Honeycrisp apple, cut-up alongside a variety of cheddars. You have aged cheddar, white cheddar, mild cheddar, and Jan's personal favorite (and once you taste, it will become yours too), the P'tit Basque. It's a mildly nutty, medium-firm sheep's milk cheese that will have you craving more. Wine – consider a Beaujolais.
Soft cheese – consider crisp whites, sparkling wines, light-bodied reds. 
Chevre, Brie, and Burrata, for instance, pair well with a fine bubbly such as a Champagne, Cava, or Prosecco.
Aged cheese – rich and savory. These include Gouda, Gruyere, Manchego, and pair well with a medium-boded white such as a Chardonnay, white Burgundy, or Pinot Blanc. Rieslings are always a good choice.
Have a bold Zinfandel you love? How about an aged Gouda or Gruyere?
Instead of recreating the cheese wheel, we turn to our friends at Wine Folly for this helpful illustrated guide. Remember, it's a guide. When it comes to taste, it's individual, so experiment and find your favorite flavor. Jan will be more than happy to help (she loves to offer samples).
The Big Cheese Bonus:
The Minneapolis site is mightier than first glance. Inside its vestibule of a space is a treasure trove of extraordinary cheeses, meats, gifts, honey, fresh pasta, sauces, luncheon soups, and sandwiches that attract many downtowners looking for a great lunch.
Pro Tip: Take advantage of the Haskell's Fall Wine Sale, then let Jan know what wines you've scored. She will help pick cheese and other accoutrements to beautifully pair with your bottle harvest.
There are two locations for The Big Cheese – one on each side of the river. But you can visit both online. Have your wine delivered – and your cheese pairing. It doesn't get much more smooth than this.
Founded in 1934, Haskell's has championed fine wines for over 80 years. We have 13 wine stores in Minnesota, two delis and one restaurant. As one of the top wine shops in North America, Haskell's is known for legendary service and one of the finest collections of wine, beer and spirits. Led by Chairman and CEO Jack Farrell, and the Farrell family, Haskell's continues to be at the forefront of the wine scene throughout the world. Haskell's also can ship wine, beer & spirits all throughout the world, the U.S. and we deliver locally.