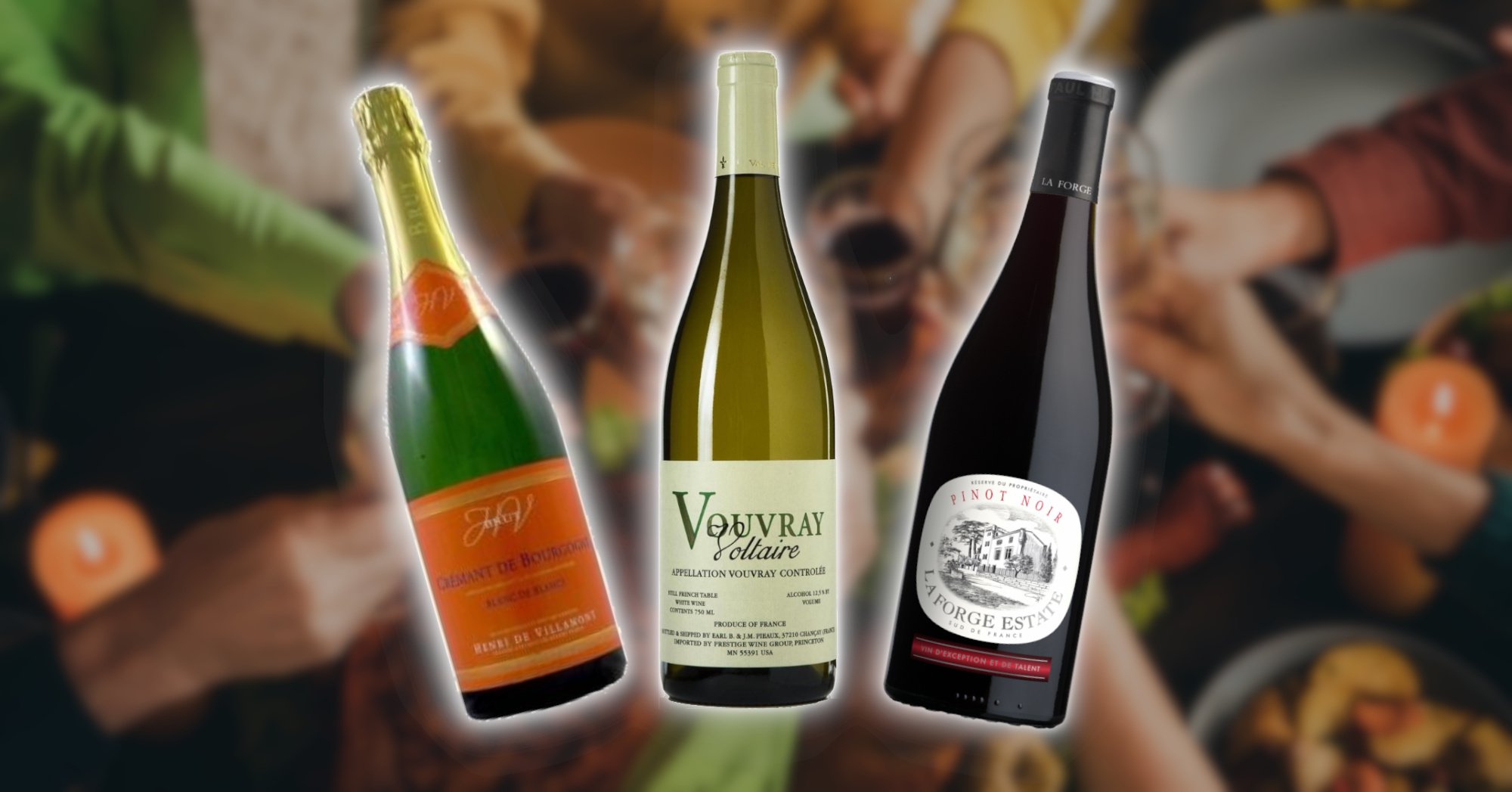 Maybe you're staying in with close family; maybe you're celebrating together from afar. Whether you need it for your table or your generous host's, wine is one of the quickest ways to complete a great Thanksgiving meal.
But it can actually be tough to pick the right wine for Thanksgiving dinner. Turkey goes with almost any wine, but side dishes can be a wild card – you've got a mix of savory (gravy), sweet (yams), moist (veggies) and dry (stuffing), which can make pairing particularly tough. That's why we've picked three palate-pleasing Thanksgiving wines to serve up this year.
Three Wines for Thanksgiving 2020
Rather than plan around every dish, look for a wine that has the greatest likelihood of getting sipped. The good news is it doesn't have to break the bank, either. Here are our wine recommendations for Thanksgiving 2020, each under $20:
Villamont Cremant Blanc de Blancs ($15.99 at Haskell's)

: A yellow color with golden reflections, this is a bright and delightful wine. This white has tastes of plum, white fruits, white flowers, and brioche, and an expressive nose. This is an extremely well-structured wine anyone can appreciate.

Vouvray Voltaire ($12.99 at Haskell's)

: This wine is full of personality, eliciting a fruity aroma with complex characteristics of white fruits, flinty minerality, and a hint of sweet melon. The very fine balance between the sweetness and acidity of the grape brings forth beautiful flavors.

La Forge Pinot Noir ($13.99 at Haskell's)

: Very elegant notes of red berries combined with soft spices and a hint of vanilla. This medium-bodied wine features ripe tannins and a well-balanced acidity.

BONUS – 2020 Beaujolais Nouveau (3 options, $9.99 each at Haskell's)

: Beaujolais Nouveau is a kind of wine made from some of the first grapes of the season and aged only weeks for a light, fruity flavor. It's also considered "good luck" to drink Beaujolais Nouveau before New Year's Eve.

Read more about our selections from this year's vintage here

.

… And a Sweet Curveball for Dessert
Just when you think you can't eat another bite, the host brings out something too sweet and succulent to turn down. Belle Meade Louisa's Liqueur ($21.99 at Haskell's) is an incredible way to wash down the cornucopia of flavors from dinner without that gritty, overly sugary taste. Mix it with coffee for a refreshing spike to your after-dinner pick-me-up.
Still not sure what wine you should have on your table this Thanksgiving? Shop online or stop by any Haskell's location for the best wine selection and advice for the big day.