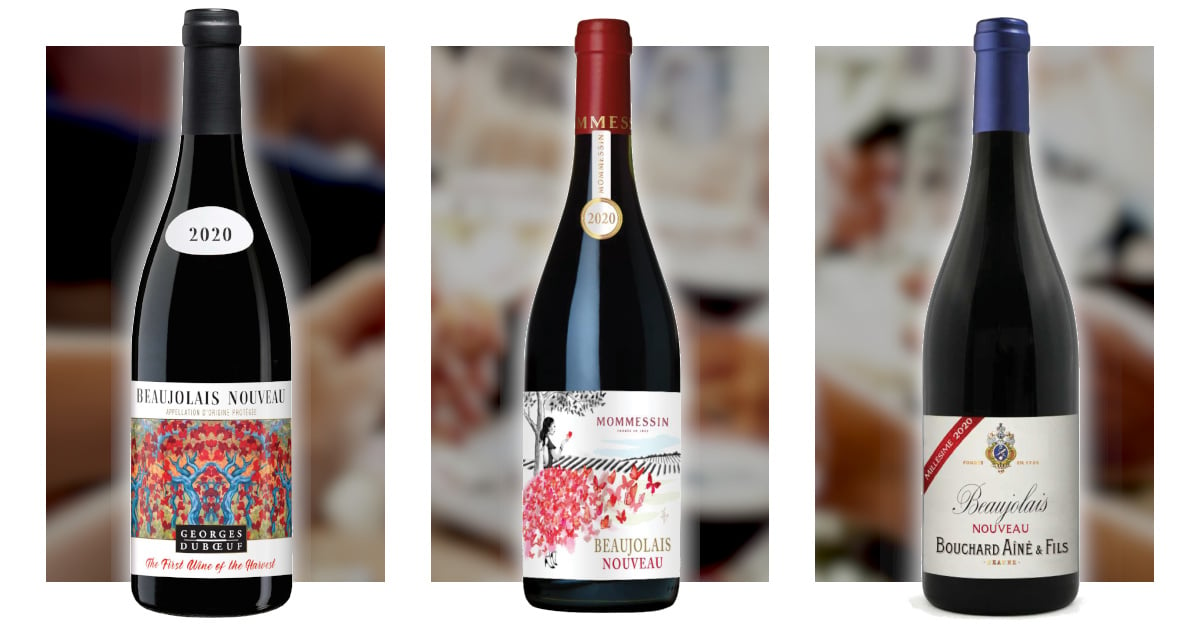 Tomorrow is the most wine-derful time of the year: Beaujolais Nouveau Release Day! We're very excited about this year's crop, so we wanted to give you a little bit more information about the wines we've selected to carry at Haskell's this season.
If you need a quick primer, check out our Beaujolais Nouveau explainer here. Long story short: Beaujolais is a universally respected wine made from grapes in the Beaujolais region of France, and it's released the third Thursday of every November to kick off the winemaking season. Beaujolais Nouveau is the celebratory annual release of a new Beaujolais vintage (hence the name, "Beaujolais Nouveau" – French for "new Beaujolais").
(Fun fact: back in 1972, Minneapolis was the second city in the United States [after NYC] to import Beaujolais Nouveau from France. The importer? Jack Farrell of Haskell's!)

Beaujolais is made just weeks after the grapes are harvested, giving the wine a signature fresh, fruity taste, and we think this year's selections will please any palate!
Bouchard Ainé & Fils 2020 Beaujolais Nouveau
Bouchard Ainé & Fils' 2020 Beaujolais Nouveau combines intense aromas and flavors (like raspberry, cherries, blueberry, roasted coffee, and dark chocolate) with a fruity, balanced softness that makes it a perfect match for deli meats, charcuterie, poultry, and ripe cheeses.
Get Bouchard Ainé & Fils 2020 Beaujolais Nouveau at Haskell's starting 11/19: $9.99

Georges Duboeuf Beaujolais Nouveau 2020
The late, great Georges Duboeuf was known as "the king of Beaujolais" for good reason. In addition to distinctive strawberry-currant flavors on the palate and strong aromatics, this year's vintage continues the winemaker's tradition of letting the community choose the label art. This year's bottle will be graced by "Russett Vines" by California artist Maeve Croghan, complementing the fresh flavors with equally pleasing visuals on the table.
Get Georges Duboeuf Beaujolais Nouveau 2020 at Haskell's starting 11/19: $9.99

Mommessin Beaujolais Nouveau 2020
In Mommessin's The Awakening of Nature Beaujolais, the characteristic ruby-red Beaujolais tint disguises a natural balance of pliable softness and refreshingly intense fruitiness. It's a result of the traditional Beaujolais preparation of maceration, wherein the grape bunches – skins, leaves, and all – are left in temperature-controlled vats to achieve a balance of color, flavor, and aroma. Enjoy with goat cheese, cold cuts, or even pork rinds.
Get Mommessin Beaujolais Nouveau 2020 at Haskell's starting 11/19: $9.99
You can find these Beaujolais Nouveau wines in store and online starting Thursday, Nov. 19, 2020! We hope you find as much to love about this year's Beaujolais selection as we did.