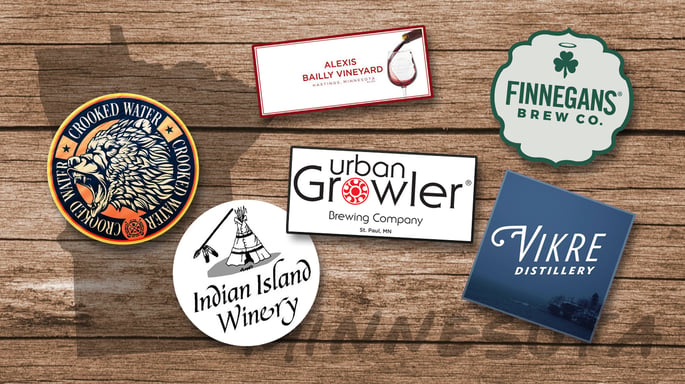 Women have been at the center of the world of spirits for as long as humans have been there has been fermenting and brewing their drinks. Like hops in your beer? Thank Saint Hildegard of Bingen, the German nun and scientist credited with adding the grain in the 12th century. Champagne wouldn't be the same without Madame Clicquot of Veuve Clicquot, who in the 1800s developed a technique to remove sediment from champagne that's still used today.
Even Haskell's is here thanks to a pioneering woman: Fritzi Haskell introduced Minnesota to the world of French wine as soon as Prohibition ended in 1934.
Minnesota still claims a few influential women among the movers and shakers of its drink-making scene. Since March is Women's History Month, we thought it would be fitting to introduce some of the women leading the beverage industry.
Minnesota Wine Makers
Nan Bailly, Alexis Bailly Vineyard
In 1973, when David Bailly planted his first grapes at Alexis Bailly Vineyard, nobody thought winemaking would take off in the Bold North. But thanks to a spirit of innovation he shared with his daughter, Nan, their vineyard has been breaking ground here ever since. Trained in the Loire Valley of France, Nan continues to create great wines in Hastings including Voyageur, which won "Best Wine of North America" at the Vino Challenge. A blend of some of the oldest French grape varieties and others developed by the University of Minnesota, Voyageur – just like Angie – is a true Minnesota original.
Angie Netzke, Indian Island Winery
Relative newcomer Indian Island Winery in Janesville is also a family affair. The winery is a 2010 addition to Ray and Lisa Winter's Winterhaven Vineyard and Nursery. Their daughter and head winemaker, Angie Netzke, has quickly proven herself by producing some of the state's better vintages, including the Marquette, a semi-dry red table wine. Their winery was the first to receive the Itasca, a hardy new grape variety released by the University of Minnesota in 2017. The fruit of their labor, the aptly-named Itasca wine (a semi-dry white table wine with citrus, pineapple and grapefruit notes), was an immediate hit, selling out its first vintage.
Women Who Brew
Jill Pavlak & Deb Loach, Urban Growler
When you think of breweries, you might envision guys with beards, beanies, and flannels with the sleeves rolled up, elbow-deep in mash – but you might be surprised to learn that one of Minnesota's best-known microbreweries is owned and operated by women.
Jill Pavlak and Deb Loch are the co-founders of Urban Growler. Not only are they Minnesota's first women-owned microbrewery, with Deb as head brewer. They left their 9-to-5 gigs to pursue their "someday" dreams – and it's certainly paid off.
Jacquie Berglund, Finnegan's Brewery
Jacquie Berglund's road to brewing success started a little differently. In 1999, Jacquie and Twin Cities restaurateur and serial entrepreneur Kieran Folliard brewed up the idea to create Finnegan's Irish Amber and launched a beer brand to serve the community. For more than 20 years, Finnegan's has donated all of its profits to charity – more than $2 million to date – to alleviate hunger in the upper Midwest. They're proof positive you can have your brew and do good, too.
Still Cooking Up Spirits
Emily Vikre, Vikre Distillery
When Emily Vikre and her husband Joel decided to give up their east coast corporate gigs and open Vikre Distillery, it was only ever going to be back home in Duluth. Emily, co-founder, CEO, and self-described "arbiter of taste," holds a PhD in food policy and behavioral theory – but it's her taste buds that run the show at Vikre, approving the flavors of their spirits and cocktail creations.
With distribution expanding throughout the upper midwest, the operation needed a head distiller and they found a great one in Sarah Lee, who came from the world of craft brewing. The skill they bring to transforming great Minnesota ingredients and fresh Lake Superior water are evident in their Lake Superior Vodka, Boreal Spruce, Juniper and Cedar Gins and Øvrevann Aquavit.
Heather Manley, Crooked Water Spirits
Already heading up her family's IT Consulting company and a small spice company, Heather Manley's path to spirited perfection started in 2013 when she decided to add distilling to her CV. She made the move after first sampling a local, small-batch craft spirit and tasting the difference from the big brands – an experience she likens to having a tomato fresh from the garden versus buying one at the store.
Bringing her dream to life, she started Crooked Water Spirits and contracted with Wisconsin-based micro-distillery Yahara Bay to bring her products to scale. In addition to their amazing line of spirits, Crooked Water also has three ready-to-pour classic cocktails: Manley's Bourbon Old Fashioned, Negroni and Boulevardier.
No matter what you like to sip, you'll be able to find a fine glass of something brewed by Minnesota's own women-led beverage makers. Cheers to them!