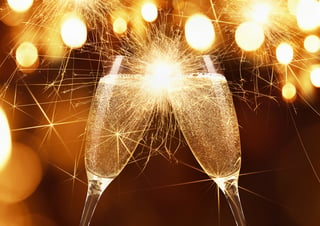 Don Ho made the song, "Tiny Bubbles" popular more than 50 years ago – in 1966. As we get ready to bring in another new year, let's look at some tiny bubbles worth popping the cork — some of the best Champagne brands to bring in the New Year.
First, what's the difference between sparkling wine and Champagne? Like all things great, that question comes with a complex history, but the bottom line is that true "Champagne" only comes from Champagne, France.
There are many wonderful Champagnes, including the king of them all, Dom Perignon, named after a French monk who made important contributions to sparkling wine. Dom Perignon is perhaps the most famous Champagne in the whole world, and simply popping a bottle is guaranteed to make any occasion extra special. However, we realize it comes with a hefty price tag, so here are six more great Champagne brands that will brighten your New Year without breaking the bank.
Louis Roederer Brut Premier – producing the world's great Champagnes since 1776. This non-vintage champagne is a star. Very fine bubbles, refreshing, rich, some call it the champagne industry's standard-bearer. From the same folks who produce Cristal.
Veuve Clicquot Ponsardin Brut – this iconic yellow-label champagne is popular for a good reason. Bring this to the table and be forever admired.
Billecart-Salmon Reserve Brut – the consistently high-rated Champagne offers notes of candied coconut and rhubarb.
G.H. Mumm 'Cordon Rouge' Brut – A fresh, full-bodied true Champagne with lemon and mineral notes. Under $50.
Piper Heidsieck Brut – Bright, crisp with notes of citrus fruits, pear, Granny Smith apples. A great buy for under $50.
Moet & Chandon White Star – a very popular Champagne for under $20.
BONUS: Six Sparkling Wines and Cava Alternatives
Roederer Estate 'L'Ermitage' Brut – Tiny bubbles are exactly what you get with this exquisite offering from Roederer's California vineyards.
Scharffenberger Blanc de Blancs – This Mendocino County sparkling wine inhibits maximum finesse, lightness, and elegance.
Schramsberg 'Mirabelle' Brut – for under $25, you can bring this young bring bubbly to any gathering and be confident it's going to go with most foods and every toast.
Chandon Extra-Dry Riche – with it's peppery notes, this California sparkling wines goes well with rich and spicy foods, and fruit-based desserts.
Freixenet 'Cordon Negro' Sweet Cuvee – sweet, bubbly, and a great value for about $13. This Spanish Cava is one to please those who prefer to sip a little sweetness. Lovely with seafood, as well.
Freixenet 'Cordon Negro' Brut – for those who want a very dry Cava at a great price.

All those sparkling wines, and we never even got to Prosecco. Don't worry. We'll look at more sparkling favorites soon. Do you have a beloved bubbly you'd like to tell us about?
Founded in 1934, Haskell's has championed fine wines for over 80 years. We have 13 wine stores in Minnesota, two delis and one restaurant. As one of the top wine shops in North America, Haskell's is known for legendary service and one of the finest collections of wine, beer and spirits. Led by Chairman and CEO Jack Farrell, and the Farrell family, Haskell's continues to be at the forefront of the wine scene throughout the world. Haskell's also can ship wine, beer & spirits all throughout the world, the U.S. and we deliver locally.