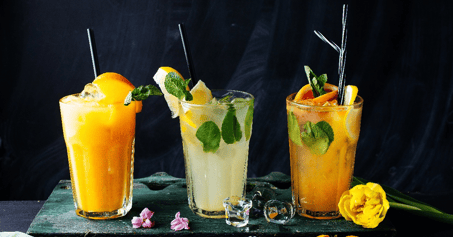 The New Year is upon us, and that also means resolutions. For us, it means a whole new year of delicious wine, beer, and spirits. Your resolutions might be about cutting down on sugar or calories or alcohol consumption for the month, or just being more intentional about healthy choices.
Healthy Mocktails
Resolutions and tasty drinks don't have to be at odds. In fact, this is the perfect opportunity for mocktails. No, that doesn't mean the cocktails are mocking you — mocktails are mock cocktails, as in they are mixed drinks that don't have any alcoholic contents, but they can still offer the flavors you might want for good times in 2020.
Never fear — we sell copious kinds of top-shelf mixers, tonics, bitters, and shrubs in our Haskell's locations around the Twin Cities metro area. It's no worry to find non-alcoholic drinks options you'll actually enjoy this winter and beyond.
Winter Mocktails
The dark and cold days seem to drag on, so punch up your days with the interesting flavors of winter mocktails. The Sparkling Cranberry Kombucha Mocktail looks fancy and beautiful, all while clocking in with low sugar and low calorie count. Ginger, rosemary, and kombucha give the cranberry juice a festive cool-weather feel that goes well beyond the Christmas season.
Especially if you're tired or under the weather, a hot toddy just feels right in the cold season. However, you'll love the non-alcoholic Hot Not Toddy winter mocktail for its solid lineup of cinnamon, clove, honey, lemon, and tea.
Sophisticated Mocktails
You've got class, and your friends and family look to you for sound beverage advice. Have the recipe for the Grapefruit Citrus Sparkling Mocktail ready next time they need a party drink idea that works for non-drinkers, too. Grapefruit juice, lemon, lime, and rosemary (or thyme) look so refined, and you don't even have to tell everyone that it also has 7 Up (or you can use club soda or sparkling water)!
OK, forgive the name, but Preggie Provençe is actually pretty sharp-looking. "Is that a classic martini with a twist?" someone will ask you. But no, this non-alcoholic sophisticated mocktail uses Dry Sparkling Lavender Soda, rosemary, and a handful of ingredients to look sleek in your hand and tasty on your tongue.
Mojito Mocktails
The Mojito is one fine and simple cocktail. You remember the four key ingredients in any great classic Mojito? (You do if you read up on our previous post about it.) Can these translate into mocktail territory? Don't doubt it until you try it. The Holiday Pomegranate Mojito includes the expected mint and lime contents, and also adds pomegranate, lemonade, and club soda for a lively and approachable Mojito mocktail.
Non-Alcoholic Champagne
With New Year's Eve recently top of mind, you might wonder what non-alcoholic drinks you can enjoy that carry the celebratory bubbly excitement that is Champagne and other sparkling wines.
Look for Meier's Sparkling Pink Catawba for a musky grape flavor but none of the alcohol, or enjoy the funny name and fruity zing of Meier's Sparkling Cold Duck, which is named for the custom of pouring the remaining wine of some bottles to mix with Champagne.
The Best Places to Order Mocktails in the Twin Cities
Around Minneapolis and St. Paul, Minnesota, there's absolutely no shortage of great cocktail bars and local distilleries. And it so happens that there's also a great variety of non-alcoholic drinks these cocktail masters offer around the Twin Cities.
Head to Norseman Distillery for Scandinavian-themed mocktails like the juniper and lavender Sigrid or honey, lemon, and assam tea in the Bjorn.
Five Watt Coffee, at their multiple locations, offer not only coffee but also a cocktail-mixing approach to coffee drinks and non-alcoholic drinks. Bitters, maple syrup, and cinnamon in a beverage? What are you waiting for?!
Tattersall Distilling is known around town and beyond, and they have bottles of their spirits and liqueurs on many liquor store shelves. Don't miss their in-house-made sodas like rooibos-lime, carrot-ginger-lemon, or spruce tip tonic.
Go to Tiny Diner for a meal, a garden oasis feel, and house offerings: kombuchas and switchels.
If you're feeling really fancy, try Demi's mocktail "Temperance Pairing" which is a spirit-free selection of teas, infusions, juices, and shrubs prepared to complement each course.
There are so many more great places around the Twin Cities, so get exploring and let us know what you enjoy!