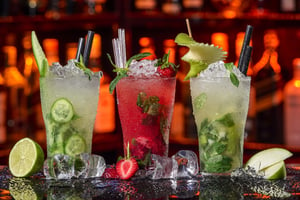 It's time to up your Mojito-making skills. The classic Cuban highball cocktail is a summer favorite for a reason. It's refreshing and it's pretty simple to make. You don't need to tell your guests that part, but there are a few tips we'd like to share to help you impress your friends and let you kick back with these easy Mojito recipes.
There are four main Mojito ingredients to keep in mind when creating this magic. It's all about quality ingredients from the start.
What You Need to Know About the 4 Key Mojito Ingredients
1. Rum
Most agree that the best rum for a mojito is a white rum, also known as silver or blanc. You want a light, crisp drink. Try these:
2. Simple Syrup Recipe
If you're not sure where to buy simple syrup, we have good news for you. For this Mojito recipe simple syrup, you'll only need two ingredients.
Get 1 part water and 1 part sugar.
Over medium-high heat, bring cold water and sugar to a boil in a saucepan.
Set the heat to low and stir continually until the sugar completely dissolves and the mixture is clear (about 3–5 minutes). Boil it longer if you want thicker syrup.
Let the syrup cool to room temperature, then pour into a sealable glass jar. Store in the refrigerator and use it to make a variety of cocktails.
3. Lime
Fresh! If bottled lime juice is all you have, head to the store. Fresh limes will be worth the trip. Pro tip: Roll the lime before cutting and squeezing.
4. Mint
Fresh! (See a pattern?) Summer is always better with a bounty of fresh mint, so pick it from your home garden or buy it — but don't skip it.
Now let's make some of these superb summer beverages.
Ingredients:
12 mint leaves
2 oz. fresh lime juice
1 ½ oz. white rum
1 tsp. simple syrup
4 oz. club soda
Crushed ice
How to make a Classic Mojito:
Muddle the mint leaves (crush with a pestle or back of a spoon) with the lime juice in the bottom of a tall cocktail glass.
Add the rum, simple syrup, and soda. Stir thoroughly.
Add crushed ice and garnish with a lime wheel.
Next level bonus: Use ½ oz. of muddled mint liqueur for a boozy boost to your Mojito.
Strawberry Mojito Recipe
If you want a little more garden variety to your Mojito life, it's quite attainable with a Strawberry Mojito.
Ingredients:
8 sliced strawberries
12 mint sprigs
4 tsp. simple syrup
6 tbsp. lime juice
Lime wheels for garnish
8 oz. light rum
2 cups club soda
How to Make 4 Strawberry Mojitos
In a pitcher, muddle mint and strawberries.
Add lime juice, simple syrup, and rum. Stir the mixture well.
Divide mixture between four highball glasses that are filled halfway with ice.
Top off each glass with club soda and garnish with lime wheels.
Bonus: Switch out the fruit to try more variations like a Blueberry Mojito Recipe or Blackberry Mojito Recipe.
Virgin Mojito Recipe
No alcohol, no problem. It's always handy to keep a nonalcoholic option around for kids, plus friends and family who don't drink. You'll be a considerate and well-prepared host by using this tasty virgin Mojito recipe:
Ingredients:
1/2 cup limeade
1/2 cup lime sparkling water
12 fresh mint leaves
Ice
Lime wheel garnish
How to make a Virgin Mojito:
Muddle the mint leaves in a highball glass.
Pour limeade and sparkling water into glass. Mix until combined.
Fill glass 2/3 full with ice.
Garnish with a lime wheel and mint leaves.
Enjoy the long days of summer with these Mojitos in hand!