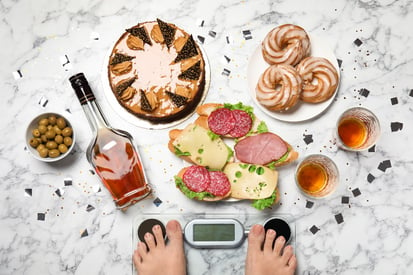 Can you have vodka on keto? Whiskey on Whole30®? Peppermint Schnapps on Paleo? Or will you have to cut alcohol completely to go gluten-free? With a little creativity, you can still unwind with some vegan wine (yes, there is such a thing) without putting your success in peril.
Alcoholic Keto Drinks
There's not much room for error in Keto so if you're looking to let loose a little, head straight for the liquor cabinet. Most of your 40% alcohol—think: vodka, whiskey, gin, scotch, brandy, rum, and tequila—contain zero carbs or sugars. And while you can feel free to mix your vodka with water, steer clear of tonic which contains 32 grams of carbs per 12 oz.
Keto 'Rita – Yes, tequila (can be) kind to Keto. This simple, no-sugar margarita recipe won't interrupt your hard-earned ketosis.
Low-Carb Hot Buttered Rum – With just the right rum, this winter rockstar is a classic crowdpleaser.
Wine – To avoid extra sugars, opt for dry white wines like Pinot Grigio and Sauvignon Blanc, or dry red wines like Pinot Noir, some Cabernet Sauvignon, and some Merlot.
Alcoholic Vegetarian Drinks
Unless you've got bacon stacked with other garnishes on your Bloody Mary, there aren't too many cocktails that typically include meat. But just to ensure you get vegetarian-friendly cocktail options, look no further:
G&Fizz Prosecco Cocktail

– Bubbly, lively, delightful — is this what the

G&Fizz Prosecco Cocktail

tastes like or how your guests will describe your party when you serve this up for all to enjoy, guilt-free?

Lemon Drop

– Simple and zesty, the

Lemon Drop

is a great way to enjoy a good

vodka

.

Cranberry Mojito Punch

– Prepare for your holiday party, or just a comfortable sunny afternoon get-together, with this

Cranberry Mojito Punch

. Here's your

rum

.
Alcoholic Vegan Drinks
Meat winding up in your cocktails is generally not a cause for concern, but look a little closer and you'll find that animal protein can pop up in the most unlikely of places, especially since the United States and other nations aren't required to list animal products that may be used in an alcohol's production. (In other news: Not all wine is vegan either due to egg whites, fish bladders (!), and milk proteins being used to filter out other particles.)
Added to that, some spirits and liqueurs use animal byproducts to filter, refine, color, or flavor the liquid—case in point, the red dye in some drinks is made from cochineal extract which is made from insects. (Sorry, if you weren't vegan before, you may have just become one.)
Here are some strictly vegan delights guaranteed to help soothe your nerves and your conscience:
Alcoholic Paleo Drinks
The staple of Paleo is nutrient-dense foods that human bodies have long been accustomed to, not the modern and highly processed foods so common today. Stick to Paleo-friendly mixers like natural citrus, sweeteners like honey or stevia, avoiding anything with processed material, dairy, or sugar bombs like soda.
Alcoholic
Gluten-Free Drinks
Most beer means malt, and malt means grains, so most beer is definitely far from gluten-free. But what about other drinks that are against the grain — gluten-free? Most wines are gluten-free, as are ciders, rum, tequila, brandy, cognac, and more. Technically, distilled spirits — even from wheat, barley, or rye — are gluten-free after the distilling process, but the influence of these spirits is a little different for everyone, so trust your gut on what's best for you.
Against the Grain Martini

– Get a specialty

gluten-free vodka

for an

Against the Grain Martini

if you're serious about both your diet and your vodka.

Ruby Red and Rosemary Honey Cocktail

– A homemade honey simple syrup gives this vodka (or gin)

cocktail

depth along with delicious flavor profile you might want all year long.

Martha Washington's Rum Punch

– Obvious points for the name, then lots of points for the flavor and ability to serve at your next party. This

rum punch

deserves your attention.
Alcoholic Low-Carb Drinks
Carbs help your body gain energy for the near term actions of life — walking, talking, thinking (brains are hungry!), and all the regular motions of day to day living. To avoid letting those carbs turn into more body fat storage when they're not used in the short term, you can enjoy these low-carb drinks. The biggest suggestion we can offer with this: Drink clear alcohol, definitely not beer or wine if you want to avoid the carbs.
Rosemary Gin Fizz

– It smells good, it looks good, it tastes good … and you'll love that this is a

low-carbohydrate drink

. You might even have two.

Gin and Soda

– Just go for soda water instead of tonic water (which is often sweetened to counteract the bitterness of quinine in tonic) and you'll keep these carbs nice and low while getting loads of botanical flavor, depending on the gin you select.
Alcoholic Whole30® Drinks
You've probably seen that alcohol is cut out for the first 30 days of the Whole30® diet. Go ahead — stick to your plan and don't cut corners if you know you'll regret it later. Our suggestion? Non-alcoholic drinks are the perfect way to stick with it. Think of it as curbing your thirst for an interesting, refreshing cocktail or beverage, and these just happen to have zero alcohol. You can always add alcohol back into your diet plan later.
Strawberry Mango & Lime Sparkler

– Strawberries, lime, sparkling water, and mango make this

mocktail

pop with fruity goodness.

La Paloma

– A softer

mocktail

riff on the citrusy blast, sans alcohol, sans worries.
Cheers to you and your health!